Take a Bow: How to Raise Money for Your Dance Studio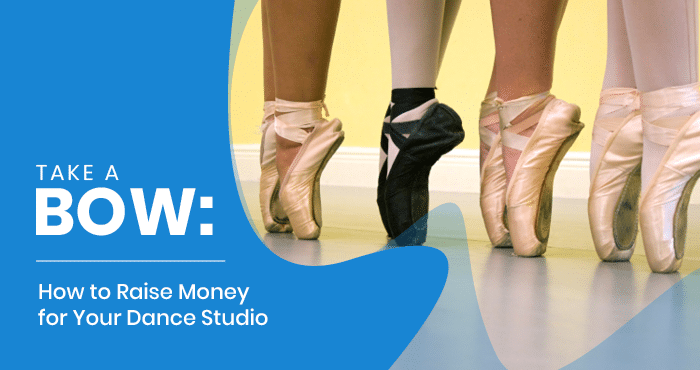 In 2019, nearly 24 million Americans over the age of six participated in some sort of dance class. That's huge—in fact, that's roughly equivalent to the entire population of Australia! These people turned to their local dance studios to move their bodies to music for both artistic expression and exercise.
As a dance studio administrator, you don't need us to tell you that 2020 was challenging for dance studios everywhere. Instead, let's look forward to the rest of 2021. The vaccine is now available in all 50 states with varying eligibility requirements, and individuals are starting to return to aspects of their normal lives.
One of these aspects will be returning to in-person dance classes for both children and adults. But how can you make sure that your studio is financially healthy and prepared for the rest of 2021 and the following year?
We've come up with 7 awesome fundraising ideas that aren't car washes for your studio to participate in so that you can increase your revenue outside of tuition fees and feel confident about the future. These ideas include:
Read on to see how you can add these fundraisers to your studio's calendar to raise money, expand your audience, and bring dance to more people in your community.
Sell branded merchandise
Selling merchandise is a tried-and-true method for your studio to earn more money while also helping your marketing efforts. Every time one of your dancers wears branded apparel or uses your merchandise in public, you benefit from free marketing throughout the community.
To make the most of the opportunity, think about what your dancers want aside from t-shirts. Do they want to carry their shoes in a tote bag with their studio or team's logo? Do their parents want to drink their coffee out of mugs branded to the studio where their kids spend all their time? Determine what products will garner the most interest, and then partner with a platform designed for small businesses like yours.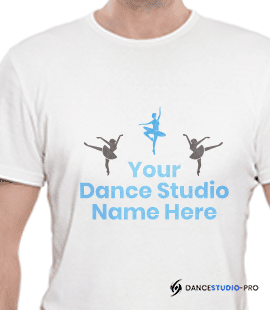 Since this is a popular fundraising method, there are a bunch of apparel fundraising websites available these days, so pick one that is designed to make it easy for you with features like:
Intuitive design tools, so you can fully customize your design and get any additional guidance you need.
No minimum inventory requirement, so you never have leftover and out-of-date shirts.
No upfront fees, so you only pay for printing and shipping items that you've actually sold.
Product options, so you can sell the merch your families want all from one place.
Create recorded or virtual lessons
While brought into the spotlight by COVID, this idea has existed for a while. Your dance studio's greatest assets are your teachers, so you should be leveraging their skills and talents beyond just your regularly scheduled classes.
Not every dancer will be able to make every additional class or be in town for special occasions, so consider creating virtual dance classes by filming or live streaming some of them and making them available on your website.
Different opportunities for selling courses include:
Selling pre-recorded strength and flexibility courses. While technique is foundational, your dancers also need to stretch outside of class and maintain overall fitness. Record a core workout or stretching routine, and bundle them online for students to use on vacation or over breaks.
Offering virtual versions of courses for those who aren't comfortable attending in-person. Some families might not be quite ready to reenter your physical space but still want to see your instructors and get their move on.
The best part about these ideas is that, once something is recorded, you can keep and sell it for as long as you want! No more class caps for awesome opportunities here.
Hold "Dance at Dawn" classes
One of the changes coming in the world for adult dancers is going to be returning to offices. Working from home granted many adults flexibility in their schedules for mid-morning or lunchtime dance classes, but these schedules might change.
To ensure that you retain these dancers, schedule dance classes for off-peak hours if your population is interested. Making it out to your studio after working a 9-5 job might not be ideal, so offer early or night classes:
Ask your adult dancers if they would be interested in a 6 or 7 a.m. dance class to start their day. They won't have to fight rush hour traffic, and they won't be afraid of missing out if they have to work late.
Similarly, consider a 9 or 10 p.m. dance class if your staff is up to it. Your adult dancers are better equipped to stay up late than your teens, and it allows them to dance without missing dinner or a kid's carpool.
Managing your studio's schedule can be difficult, but embrace unconventionality in the name of your community. In return, you're sure to secure some extra funds while making participation convenient for all your dancers.
Offer "Rent a Teacher" classes
One of the beautiful things about dance is that it can be done truly anywhere—no studio necessary! To expand your studio's visibility in your community and introduce more people to the magic of dance, offer to rent out your instructors to other organizations for special events.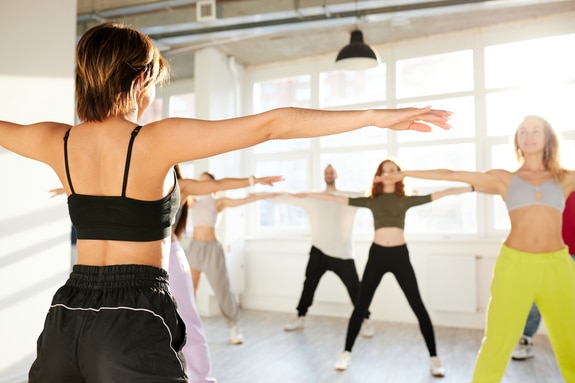 Market these ideas to:
Local businesses for team-building events
Schools for extracurricular activities
Local groups like parent-teacher organizations
Church groups like bible studies and youth groups
You might even find that people who attend these events get hooked and become official students of your studio afterward. Encourage the organizations to send out email reminders about the event in the days leading up to maximize participation.
Host Parents' Night Out
Get your dance parents involved in this fundraising idea. Designate a Friday evening as "date night" or "present shopping night" around the holidays, and offer to watch young children in your community as a way to raise money for your studio.
Think of some crafts and other fun activities for the kiddos to do, charge parents an appropriate amount for the time you'll be watching them, and then start letting people know!
This strategy is great for specific team fundraising needs because it's one that the team itself can participate in. Older dancers can be great babysitters, and they'll feel empowered that they're helping to pay for competition fees, costumes, or whatever they need to be successful.
Resell gently used dance gear
To reduce waste, raise money, and lower financial barriers to dance for low-income families, consider opening a "reselling" feature for your studio. Here's how it works:
Families donate unused or gently used dance equipment to your studio.
Your staff sanitizes the equipment and makes sure it's in good condition.
In your store, you repackage the items and sell them at reduced prices.
This fundraising idea has a few different benefits. First, it prevents waste. Sometimes a dancer wants to try something new such as tap classes, buys new tap shoes, and then decides that tap isn't for them. Rather than those shoes sitting unused in a box forever or getting thrown out in spring cleaning, they can be given new life by another dancer.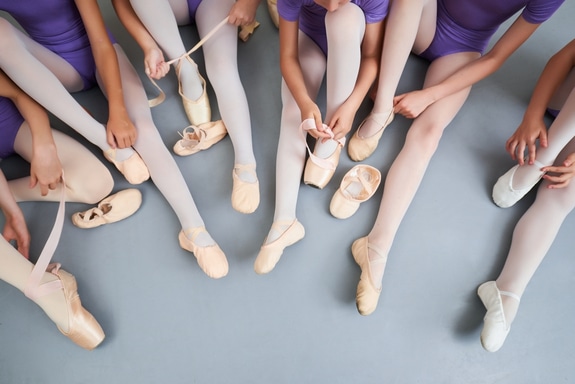 Second, selling dance items at a reduced rate can help families with lower disposable income levels get involved in dance. Because brand new gear can be prohibitively expensive, buying things secondhand removes some of that burden and allows individuals of all backgrounds to participate.
Third, your studio gets to keep 100% of the profits from this fundraising idea since the items were donated to you in the first place. It's a win-win-win.
Host an alumni event
Our final fundraising idea comes back to your community. No matter what, your studio is always going to lose dancers eventually. They graduate and move away, their families move, or they have children.
Just because they're no longer enrolled in your classes doesn't mean that you have to lose contact with them completely! To maintain these relationships and keep them up to date on what's happening in your studio, host alumni events to invite them back every so often.
Keep a segmented list in your organization's dance studio software of dancers who have aged out or otherwise moved on, and then email them every so often with your best wishes and invitations to alumni events.
These events could be anything from dinners to dance classes, as long as you invite them early enough to plan to attend and charge some sort of registration fee to cover the cost of the event. Dinner and drinks are great for adults, whereas college students might be more interested in a dance class to move their bodies over winter break.
While they're there, don't forget to show off your new merchandise to them and see if they want any gear of their own.
---
Running a dance studio isn't easy, but fundraising doesn't have to add to your stress level. With these ideas for engaging with your community and expanding the value you provide, you can raise more money and dance your way into a bright future.