Dance Studio Marketing: 12 Ideas to Promote Your Business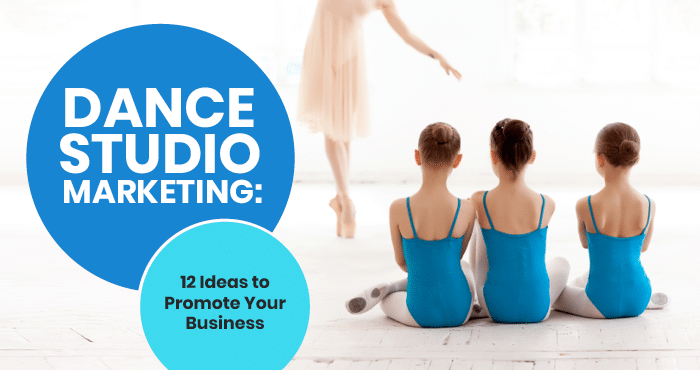 Most days of the week, your dance studio is rocking. You've got fun and informative classes, knowledgeable instructors, and energetic students eager to learn. Your current dance studio community might be loving your offerings, but are you doing everything you can to onboard new students and grow your business?
Dance studio marketing is critical to expand your dance community and bring more revenue into your business. With a strong marketing strategy, you can spread the word about your amazing classes, attract new students, and keep current students and dance families in the loop at all times.
To step up your marketing strategy and effectively reach your target audience, you need to use the right platforms with the right messaging. We'll go over the top dance studio marketing ideas to take your business to new heights:
Here at DanceStudio-Pro, we've seen plenty of dance studio owners leverage these tips, along with our studio management software, to carry out comprehensive marketing efforts and earn more students in the process. Let's take a closer look at how to make these platforms work for your own dance studio!

Social Media
Social media posts have the potential to reach hundreds and even thousands of people, giving your studio a larger platform to market your services. Plus, if you're running a dance studio for kids and teens, most of your customer base spends multiple hours of the day glued to their smartphones anyway. In fact, research shows teens spend an average of more than seven hours a day on their phones. Meanwhile, their millennial and Gen X parents and guardians (AKA your paying customers) spend over three hours a day using their phones.
If your studio has been hesitant to get involved in social media, take this opportunity to create a business account on Instagram, Facebook, LinkedIn, and Twitter. You can even try TikTok if you're really adventurous. Upload a professional photo of your studio or a high-quality logo as your profile picture so prospective clients immediately understand who you are and what you do. Be sure to update your location, business hours, and contact information on your profile so interested followers can easily get in touch.
For each social media platform, consider the target audience that's most likely to use each platform when creating your posts. Here's a breakdown of top social media platforms and the generations they appeal to the most:

Sources: Sprout Social, Statista, and Pew Research
With this information, you know you should generate posts that appeal to students' parents on platforms like Facebook and LinkedIn and create content that appeals to younger demographics on Instagram, Twitter, and TikTok.
Additionally, there are two options for types of social media posts to consider — paid and organic posts. Here are the differences:
Organic social media posts are the regular post updates that anyone can create on social media for free. These are the posts that will appear in your followers' feeds. Organic posts help establish your brand identity and allow you to share regular updates on studio activities and events.
Paid social media posts are advertisements you can purchase to boost your message to specific target audiences. For example, if you're interested in connecting with parents of kids or teens who live within 15 miles of your studio, you can set up a paid social post that delivers your content directly to their feeds, even if they aren't following your page.
Experts recommend using a combination of both post types for the best social media results. You can develop your organic audience for free while devoting some marketing dollars to paid advertising for a more intentional strategy. Be sure to track the analytics for all of your posts to assess their effectiveness at converting leads into customers.
One final tip — ensure you exploit the strengths of each social media platform. For example, Instagram is all about high-quality, authentic photos, while Facebook prioritizes original (not reposted) videos and posts made within Facebook groups. Keep these factors in mind as you build a strong social media presence for your studio.
Customer Referrals
Word-of-mouth advertising through customer referrals is one of the strongest marketing channels at your disposal. This type of promotion is so powerful because people respect and put stock in the recommendations made by their friends and family.
Think about how much value you put in the opinions of your loved ones, whether it's a restaurant recommendation or their review of a recent blockbuster movie. If they tell you the restaurant burned their steak, or the movie was the best one they've seen all year, it will probably have an impact on your decision to try that eatery or see the film.
The same process happens when your current students recommend your studio to their cousins, friends, neighbors, or classmates. They tell their friends all about the fun events at your studio and how much they've learned in your classes, and inspire them to get involved. Through this method, you can exponentially grow your student community when each current student reaches out to multiple new prospects.
Plus, this marketing tactic is completely free. However, we do recommend offering an incentive for students to encourage them to recommend your studio. For instance, offer a tuition discount for customers who bring in new students. This will help get more students on board with referrals and ultimately, get more new students into your classes.
Email
Most of us probably spend a good chunk of time in our email inbox each day. Whether we're reading up on newsletter content or searching for promotions and deals at our favorite stores, email is a frequently-used communication platform to receive new information, especially from businesses and brands. Focus on building email lists for both prospective and current clients to entice new customers and retain the customers you already have. Here's how to engage each segment:
Acquisition email marketing
According to the marketing firm Accudata, acquisition email marketing is the process of "using email campaigns to grow your customer base." Be sure to create an email segment for prospective clients that's separate from your communications to your current students. There are also a few best practices to keep in mind for communicating with prospects via email. Be sure to:
Send welcome emails right after people sign up. This makes interested consumers feel acknowledged and appreciated by your studio.
Market your promotions and discounts. For example, if you're offering a seasonal tuition discount or free classes to new students, be sure to convey these deals to your email subscribers.
Provide the option to unsubscribe and respect when people do. It's illegal under U.S. legislation to not include a link that lets recipients unsubscribe from your messages, so you must provide a clearly visible unsubscribe button in all of your email communications. And when people choose to unsubscribe, respect this choice and don't email them again through any sneaky backchannels.
Be sure to strike the right balance between giving your prospects the information they need to get involved without annoying them by spamming their inbox with messages.
Loyalty email marketing
Email marketing is also important for engaging your audience of current students and parents. Accudata defines loyalty email marketing as the process of "retaining and re-engaging current customers." To keep your current clients interested, you must:
Send appreciation messages. Whenever customers purchase items like your studio merchandise or tickets to upcoming events, be sure to send thank-you emails that convey your gratitude for their continued support.
Give perks to loyal customers. Surprise your long-time students with free t-shirt giveaways, raffles, or discount codes.
Solicit feedback. Your students want a chance for their voices to be heard, too. Send out surveys to gauge student opinions on different aspects of your studio such as class variety, teacher effectiveness, and overall satisfaction. You'll give students an outlet to express themselves and gain valuable feedback to adjust your strategy moving forward.
By pursuing a combined strategy of reaching out to prospective and current students with tailored messages, you can optimize your email newsletter to be an effective engagement avenue for your studio.

Branded Merchandise
Who doesn't love a soft, stylish t-shirt or fun branded mug from their favorite business? Let your dance community members become walking advertisements for your studio by offering branded merchandise with your logo and colors!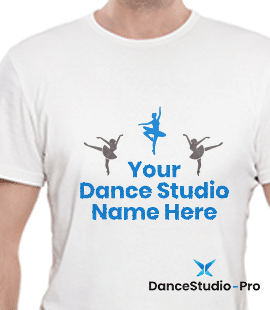 Give students free merch when they register for classes or as part of random giveaways or sell your swag at your dance studio store. When your students wear or use your merchandise while out and about, it exposes a wider audience to your studio brand and can pique potential customers' interest. Striking designs or stylish typography help your merchandise stand out and attract attention.
Beyond t-shirts or mugs, offer items like branded face masks, duffel bags, water bottles, and warmup outfits. Your dance students can deck out from head to toe in your studio's merchandise to market your business wherever they go. Plus, you can unify your studio's brand by having everyone wear the same style of clothing.
Direct Mail
A comprehensive marketing strategy doesn't just include digital communication platforms. According to this resource, direct mail has one of the highest ROI ratios for any marketing platform, and it's effective for connecting with older demographics.
By combining your efforts in the virtual realm with physical advertisements such as direct mail appeals, you can reach a wider audience of potential students and their parents and help your message stand out. The benefits of direct mail include:
Connecting with customers on a personal level. Consumers appreciate when direct mail is personalized with their preferred name and when it speaks to them on a deeper level. For example, share a compelling story of one of your current students and how your studio has impacted them. Maybe they faced challenges in their journey but were able to persevere and win a major competition with the help of your studio's instructors. That's the kind of personal story that can move readers and capture the attention of prospective students.
Standing out above the clutter. Since people are spending so much time on their phones nowadays, they consume a significant amount of advertisements from countless businesses trying to sell them something. With direct mail, you can focus your audience's attention on just your advertisement for a moment, improving the chances that they'll remember you and contemplate your message.
Send out postcards or flyers in your local area to spread the word about your studio and encourage prospects to give it a try. Be sure to offer incentives like getting the first class free so potential students can see if your studio is a good fit before committing.
SEO
Search engine optimization (SEO) is a popular digital marketing tactic businesses can use to improve their website's ranking on search engine results pages (SERPs). This is important for your dance studio because there are usually only 10 organic results listed on the first page of Google. Since a mere 25% of users continue on to the second page of Google search results, you want to get your website content onto that first page when users search for keywords relevant to your business.
To understand the importance of keywords, put yourself in your prospective customers' shoes and think about what they would type into the search bar when investigating options for local dance studios. If you were a parent of a rambunctious seven-year-old with a desire to join a dance class, you'd probably type phrases like "dance studios for kids" or "dance studios in [your city]."
For instance, when users located near Atlanta, Georgia, search the term "dance studios for kids" on Google, here's what they see. At the top of the SERP, there are several paid search ads (we'll dive into these more in the next section):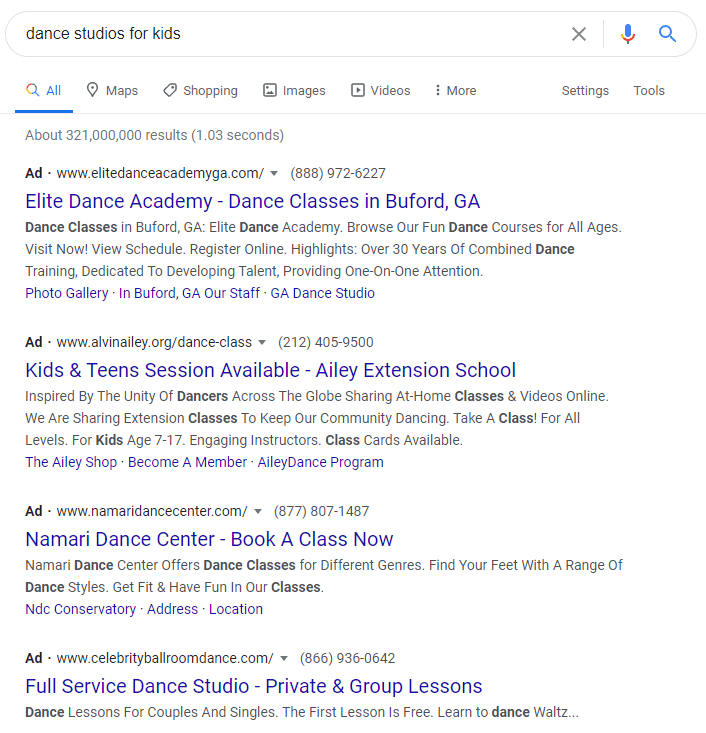 Below the paid ads, there's a map that features several dance studios for kids in the area. These maps and listings are highly valuable for consumers because they include necessary information such as business addresses, phone numbers, hours of operation, and reviews. To add your business information so that your studio appears in these listings and on Google Maps, create a business profile on Google My Business.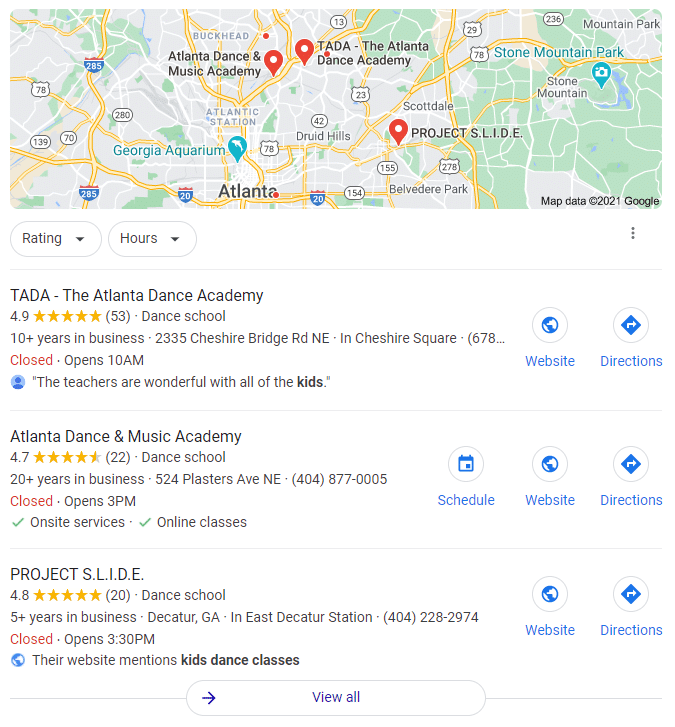 Lastly, the rest of this SERP is filled with organic search results like these: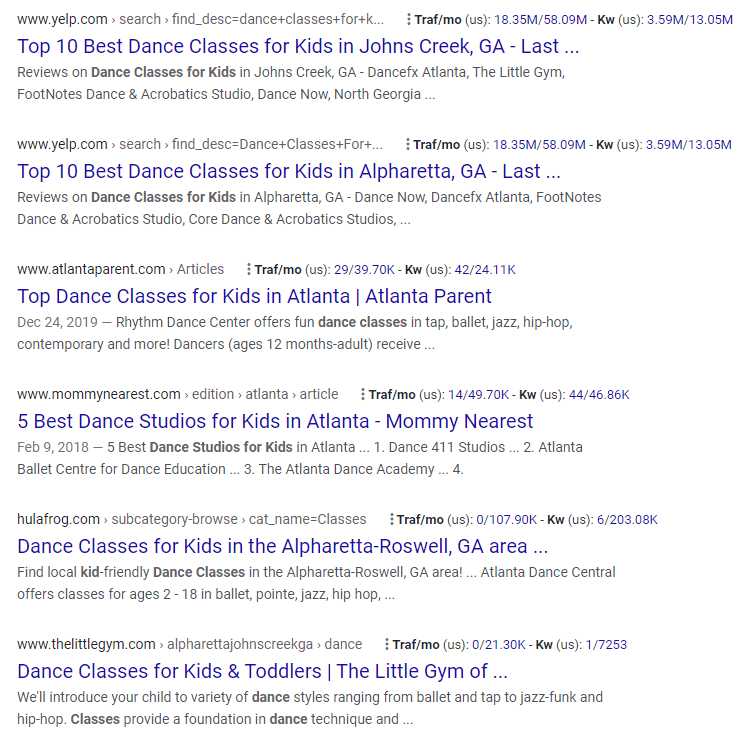 As you can see, once users scroll past the paid ads and business listings, there's limited remaining space on the SERP for the organic results. Therefore, it's important to create a strategy that ensures your website is among the top results. There a few steps to take to optimize your Google rankings:
First, do some research to compile a list of the most relevant keywords in your area for your business. You can use a free keyword research tool like Google's Keyword Planner or Moz's Keyword Explorer to identify top phrases.
Then, once you've gathered a few important keywords, be sure to include them within your website content so that your pages pop up on the first results page when customers type in relevant search queries. Include the keywords in the headings and subheadings of blog posts or internal website pages. This signifies to Google that the content is relevant and valuable for users and helps your pages rank higher on the SERPs.
This is just a brief overview of SEO, but there are plenty of resources available for SEO beginners to get a deeper understanding of the process if you want to really dive into this marketing option.
Pay-Per-Click Advertising
Pay-per-click advertising (PPC) is an advertising model where marketers pay publishing partners (typically search engines) every time their ad is clicked. You can choose to bid on keywords that are relevant to your target area. If your bid is accepted, your website link will appear at the top of the SERP for your chosen keyword.
Here's an example of the PPC ads that appear when a user searches the keyword "dance studio lessons." If your studio was to bid on this keyword and win, your website link would be one of these text-based ads: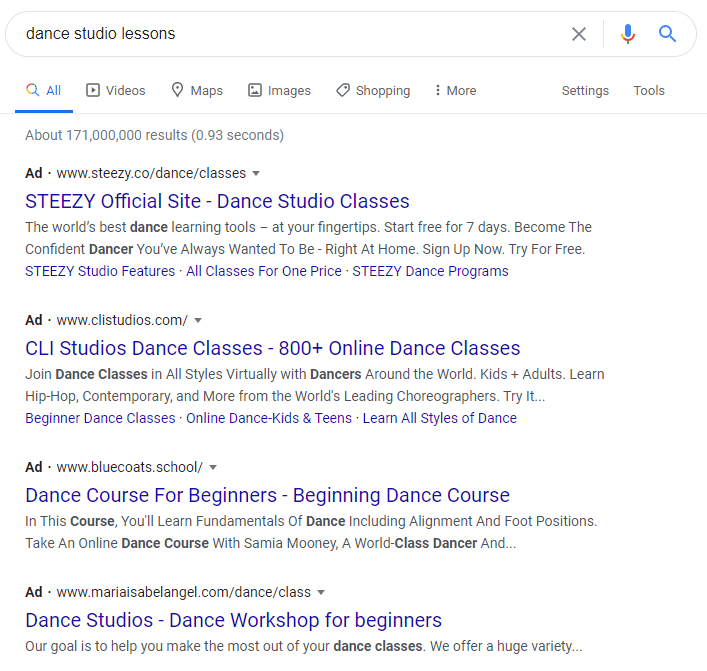 Other types of PPC ads include Google shopping ads that appear when users search for certain products. Check out these ads for the keyword "dance shoes":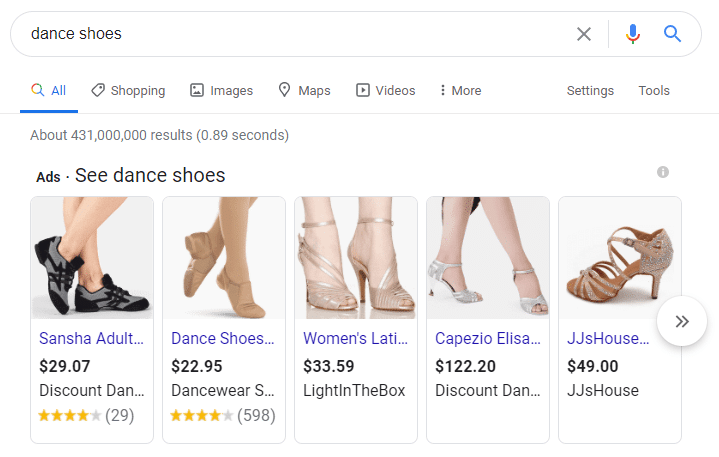 By pursuing a PPC strategy, you guarantee your website will pop up when users search your target keywords, even if your organic website links aren't currently ranked on the first results page.
This effort will require some of your marketing funds, but if your dance studio is a nonprofit organization, you could actually receive this advertising perk for free. Registered 501(c)(3) organizations are eligible for Google grants for free search ads.
Either way, these ads can be a great way to get your studio's website on your target audience's radar, even if your organic web presence isn't quite where you want it to be.
Flyers
Another non-digital marketing avenue you can use to reach new students is a good old-fashioned flyer. Flyers are a cheap marketing idea because if you've got a computer, printer, and some ink, you already have what you need to create your own flyers. Alternatively, you can also print your flyers for a fee at a print shop or office supply store and use their higher-quality materials.
Ensure your studio flyer has all the basic info for your studio. Here's a template that offers an example of what your flyers might look like: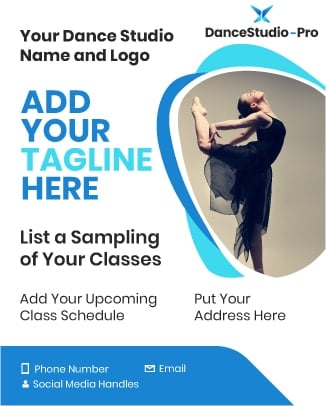 Your dance studio marketing flyers should include your studio name and logo, your tagline (if you have one), a brief overview of classes you offer and your upcoming class schedule, your address, and contact information like your email, phone number, and social media handles.
Put up your flyers on public bulletin boards, but make sure you have permission first. Here are a few popular places that usually permit businesses to hang flyers:
Public parks
Grocery stores
Coffee shops
Gyms
Restaurants
Libraries
Bus stops
Community centers
Street posts
Hanging flyers in these locations exposes your business logo to the general public, but you can get strategic with your flyers, too. Hand them out to current students and encourage them to ask their teachers if they can pass flyers out to classmates. This will get your studio information directly in front of members of your target audience.
Local Sponsorships
Look into options for sponsoring civic clubs, sports teams, nonprofits, charity events, and other activities in your area to get the word out about your studio.
Sponsorships can be highly productive marketing opportunities because they accomplish several goals at once. They help market your studio, allow you to network with other business owners to foster ongoing relationships, and position your dance studio as a supporter of local community activities and events. Let's explore each of these benefits:
Market your studio: By sponsoring local groups such as youth sports teams, or events like charity 5Ks, you can get your business logo on banners, t-shirts, and other marketing materials related to the events and activities. You'll introduce your dance studio to a wider audience of community members who may not be familiar with what you have to offer.
Foster relationships: Plenty of events feature booths for each sponsor to offer more information about their business. Take advantage of these opportunities to not only connect with prospective new students but also network with other local business owners. You can share advice and even put up each other's flyers at your respective businesses for mutual benefits.
Position your studio in the community: Through involvement in events, you position your dance studio as a proponent of local groups and charities. According to Double the Donation's corporate social responsibility guide, consumers are more willing to do business with establishments that engage in charitable efforts to improve society.
Here's an example of what your booth might look like at a local event like a charity 5K, annual music festival, or sports tournament: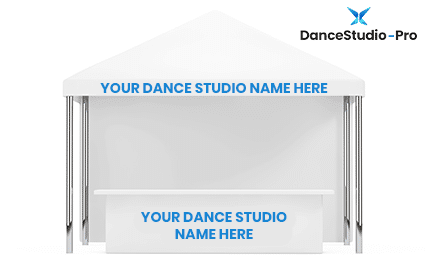 As you can see, this is a great way to prominently display your logo and attract the interest of event attendees.
Ultimately, through sponsorships, your dance studio will not only be able to do some good in the local community, but also share your message with the wider community and boost your PR image.
Text
In the approximately seven hours teens spend on their phones each day, they aren't using 100% of that time for social media. They're also staying in touch with friends and family through texting.
Reach potential students where they already are by carrying out text message marketing efforts. You can use your texts to share information about:
Seasonal tuition discounts or promotions
Upcoming special events such as recitals or studio-wide parties
New merchandise for sale at your studio store
To create an effective text marketing strategy, you need a way to send out mass messages to everyone at once to save yourself time. With a platform like robo-texting from DanceStudio-Pro, you can send out messages to segmented groups with ease.
Create communication segments to speak to just students or just their parents. Be sure to tailor your message to appeal to each group (and save the texting lingo for the younger crowd).
Telemarketing
Similarly, conducting telemarketing efforts to advertise your dance studio also takes advantage of your audience's frequent phone usage. You can gather phone numbers for your text and telemarketing efforts through:
Prospect research
Collecting information on sign-up sheets while marketing your studio at community events
Providing a link to sign up for text/call alerts on all marketing platforms
You should make an extra effort to reach out by phone to prospective students who expressed significant interest in taking a class. A personal phone call can make all the difference in influencing them to make the leap and actually sign up. They can get their questions answered on the spot and figure out exactly what they need to register for classes.
Dance Studio App
Take your digital marketing efforts to the next level by creating your very own studio app! With a program like MyApp-Pro from DanceStudio-Pro, you can create a personalized app for your dance studio using your logo, colors, and other branding specifics. Students and parents download your mobile app right from the Apple or Google Play app stores. Check out this example of what your custom dance studio app could look like: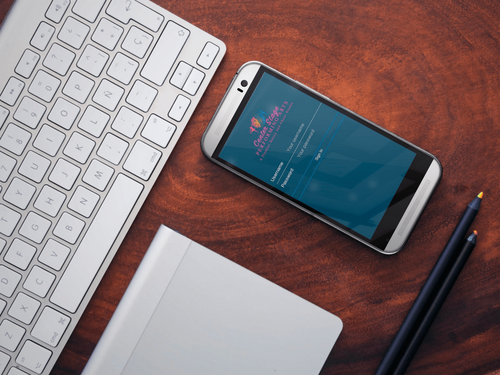 Use your custom-built dance studio app to:
Send event reminders and updates through push notifications.
Send reminders to register for classes with your online student registration link.
Share videos and photos of your current dancers and their progress to engage students and generate excitement for your classes
Not all dance studio owners can say they have their very own studio app, so this can be an opportunity to set your business apart from competitors and offer something unique to your current and prospective students.

Conclusion
Hopefully, a few ideas on this list jumped out at you or inspired you to start thinking of what it would look like to implement the idea into your own dance studio marketing plan.
Again, we recommend using a combination of these approaches in tandem and balancing your digital and non-digital marketing strategies. For example, you may be interested in pursuing social media marketing, direct mail, and telemarketing. Or, you might prefer focusing on SEO strategy, sponsoring a few local events, and creating a comprehensive dance studio app. Combining digital with in-person or tangible marketing tactics will yield the greatest results by helping you cast the widest net to attract new customers.
Be sure to also combine paid and free marketing opportunities. Don't pass up any opportunities for free advertising, but invest in a few key paid sources to be more intentional with your strategy and market your services directly to your target audience.
Once you've sufficiently spread the word about your studio and earned some new customers along the way, make sure you continue running the best dance studio possible and offering valuable experiences to your students. One of the best ways to ensure you're maintaining a high-quality studio is by equipping your team with proper dance studio management software. When you and your team of dance instructors operate efficiently, you can continue to grow your dance studio and boost revenue in the process.
For information on how to optimize all aspects of your dance studio business strategy beyond just your marketing plan, check out these additional resources:
Dance Studio Business Plan. Your dance studio business plan acts as a guiding force for all future business decisions and can be presented to potential business investors to give your studio a funding boost. Use this guide to create a detailed, functional business plan for your dance studio.
Tips for Dance Studio Owners: 9 Best Practices for Success. As a dance studio business owner, you know that marketing isn't the only task on your plate. Check out this resource for tips to improve and streamline all aspects of your studio.
Dance Studio Management: The Ultimate Guide for 2021. Running a dance studio in the modern age means fully embracing powerful dance studio management software. This post provides tips on using your dance studio software to manage your business more effectively.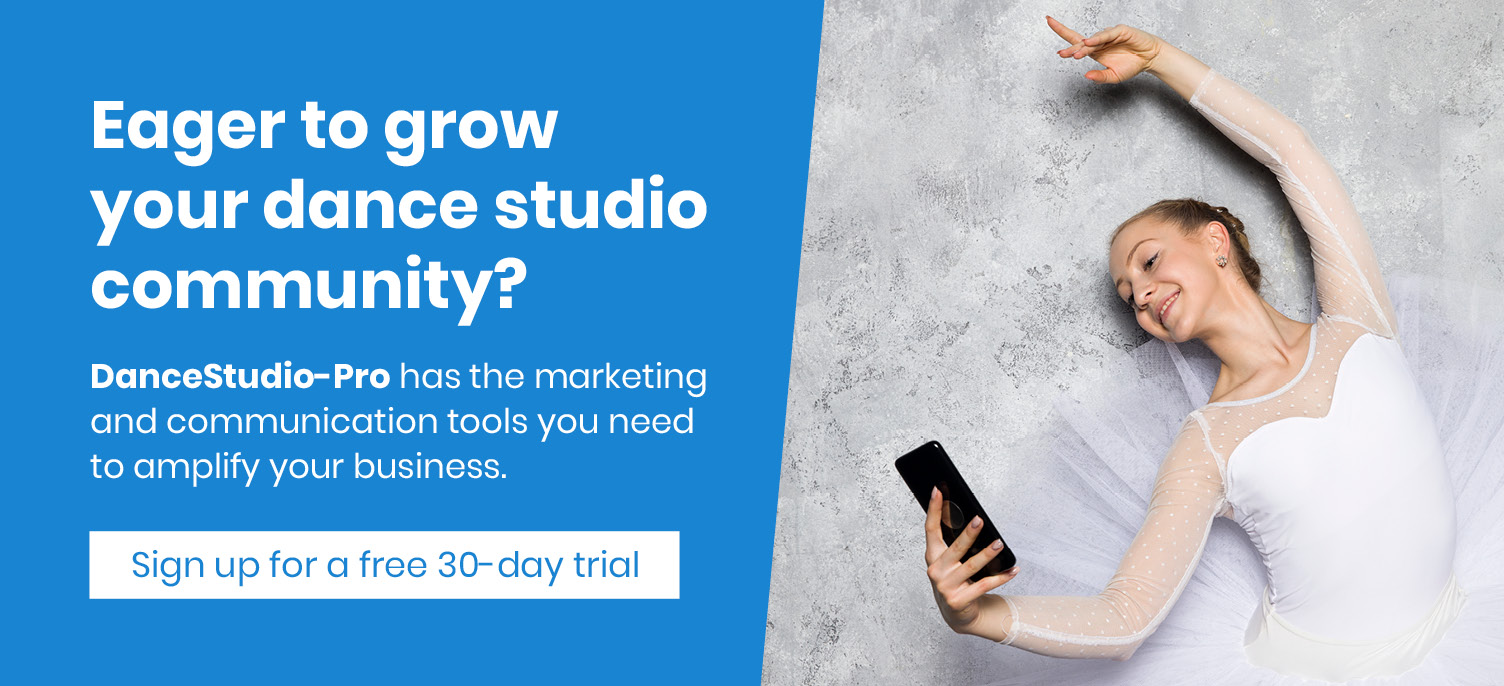 Laura Cole, CEO of DanceStudio-Pro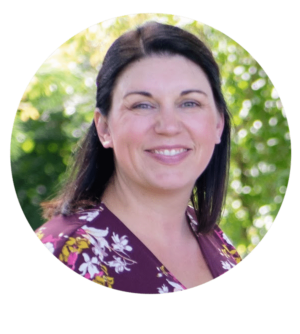 For more than 15 years, Laura Cole has focused on strategic planning and project management for SaaS organizations. Laura became the CEO of DanceStudio-Pro in 2020. Laura is a wife, mom, yogi and volunteer.