Tips for Dance Studio Owners: 9 Best Practices for Success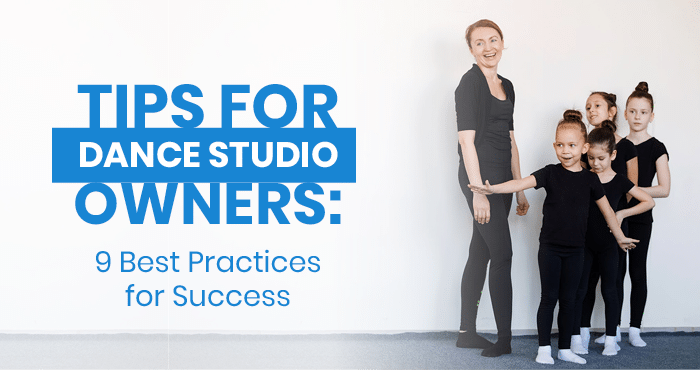 The career path of a dance studio owner is often challenging, but rewarding. Every day, you get to do what you love: share your passion for dance with your students and staff and encourage them to grow in their love for dance as well. However, it takes a lot of effort to keep your dance studio up and running, especially during a pandemic, and there's no shame in asking for help along the way. If you're a dance studio owner looking for tips to meet these challenges, you've come to the right place!
At DanceStudio-Pro, we've helped hundreds of dance studio owners organize their management practices to achieve ultimate success with their studios. Our dance studio management software helps owners systemize every aspect of their studio, from student and class management to automated payment collection. That said, we've come up with nine tips for dance studio owners to reach their full potential. Dance studio owners should:
While these tips are designed for dance studio owners, studio managers and instructors may find them helpful as well. With a strong management structure in place and deliberate planning at each step of the process, your dance studio will be poised to spring to new heights. Let's jump in!

1. Adopt powerful dance studio software
To set yourself up for success from the beginning, invest in a dance studio software solution. Dance studio management software can help streamline just about every aspect of your business, from managing class and student information to organizing staff schedules and marketing efforts. Quality dance studio management software will let you organize:
Student information: Your dance studio software can store student information such as medical history, costume sizes, attendance records, and more. Your software also lets you keep track of tuition payments, and with tuition auto-pay, you never have to worry about personally tracking down every missed or overdue tuition payment.
Class information: Use your dance studio management to take class attendance, prepare lesson plans, and track student progression.
Ticket sales: Sell and track tickets for your virtual and in-person events directly within your dance studio management software.
Prospect management: Your software can discover and provide contact information for prospective students to allow you to reach out and leverage growth and expansion opportunities.
Marketing: Tools such as robo-messaging and seamless email marketing integrations allow you to carry out your marketing plans, get your name out there, and communicate with your dance studio community.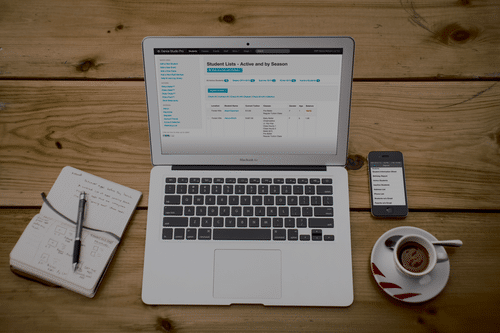 Since the pandemic has pushed many dance studio classes and events online, investing in dance studio management software now will allow you to carry out all your management operations under one roof and stay organized. Also, establishing good management software practices now will help even after the pandemic ends by giving you an organized, centralized system to manage the return of in-person classes.

2. Hire and train the best employees
Your employees are your teammates and the foundation of your studio. Of course, you want to hire instructors that have ample dance and teaching experience, but look for employees with top-notch soft skills as well. Make sure the instructors and staff you hire are responsible, customer-service-oriented, and friendly individuals who represent your studio well.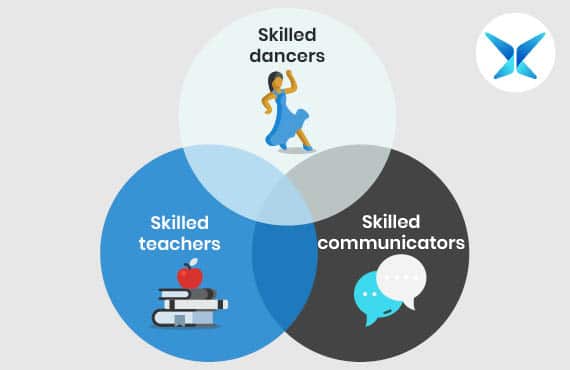 Hire instructors for your dance studio who have all three traits.
Once you've got the best people on board, ensure you spend time training your staff effectively. Hiring employees is an investment in your business's future, and you want to ensure the greatest return on this investment by providing your staff with the tools and skills they need to be successful. Provide an employee handbook and orientation session to get all employees up-to-speed with your studio's best practices and day-to-day operations.
Additionally, equip your staff with the right tools to teach effectively. Tools like DanceStudio-Pro's dance studio software provide teacher management features such as class assignments with descriptive lesson plans and a text message and email alert system to remind teachers about upcoming events and classes. These tools help dance instructors stay organized to be more effective teachers. And you know that when your instructors do their jobs well, it makes your job as the owner significantly easier.

3. Launch a referral program
Referral programs are a great way to expand your student base and bring in more revenue to your studio. Encourage students to invite their friends and family to try a sample class, and give incentives to those who do. The incentive can be tuition discounts or prizes such as a stretch band or studio t-shirt.
This type of word-of-mouth marketing can be very powerful because people trust recommendations made by their loved ones. Additionally, prospective students are more comfortable trying out a dance class if they know their friend or family member will be there too. With referral programs, your students become influential advertisers to bring more traffic to your studio.

4. Invest in strategic marketing efforts
Don't be afraid to spend money on marketing your studio to find new students. As the saying goes, sometimes you've got to spend money to make money—and dance studios are no exception. We suggest exploring these marketing avenues for the greatest returns:
Social media: Targeted social media ads can push your dance studio posts in front of your chosen audience. For example, if you want to reach a specific audience, such as women ages 18-25 in your local area, or moms with kids between the ages of 3 and 9, you can input these characteristics and target this audience with your social media campaign.
Direct mail: Direct mail marketing can also be aimed at your target demographic to give them an incentive to try out your studio. Send a quick letter or postcard with a coupon or free-class offer to households in your community that match your prospective student characteristics.
Flyers: Go the old-school route and post flyers at local libraries, coffee shops, gyms, schools, and any other location where potential students might be. Be sure to include your studio's phone number, address, and a QR-code for people to scan that leads to your website.
Take some time to assess your marketing options to choose a method that will reach your targeted audience most successfully. Remember, it can anywhere from 10 to 20 different touchpoints with a prospective student before they decide to take a class, so be sure to use a variety of marketing channels to connect with your audience multiple times without overwhelming them.

5. Position your dance studio against competitors
Another important aspect of your marketing strategy is highlighting your unique offerings. What makes your studio stand out from others in your area, and why are these unique propositions beneficial for your clients?
Perhaps you offer a dance studio app that allows your students and staff to access class listings, teacher notes, and recorded lessons all in one place. Maybe you run an old-school 80s-themed dance studio where everyone wears leg warmers and fingerless gloves to class. Or maybe one of your dance companies was featured on a season of So You Think You Can Dance.
Whatever your niche offerings are, be sure to emphasize them in your marketing and outreach efforts and describe how these components of your studio are valuable to your clients. For example, stress that because of your dance studio app, your students are better connected with your dance community than ever, even when taking remote classes. Or, explain that since one of your studio's dance troupes was featured on a TV show, students can learn how to reach the spotlight and make a true dance career from people who've actually done it.
There are thousands of dance studios across the country (and likely several in your area), so you must present a convincing argument for why students will receive more value from choosing your dance studio over a competitor's.

6. Tailor your offerings to specific audiences
Similarly, tailor your studio's offerings to attract different audiences and draw in more students by appealing to a variety of interests. Offer a range of dance classes, including live virtual classes, pre-recorded content, solo lessons, and group classes. Provide classes focused on different styles of dance and geared toward different age groups.
Students will be eager to pick the classes that best suit their interests and help advance their skills in various genres. Plus, by offering a variety of styles and remote classes, you can attract a wider audience of virtual students as well. For example, some might prefer tuning into live-streamed group classes, while others enjoy pre-recorded lessons or solo sessions.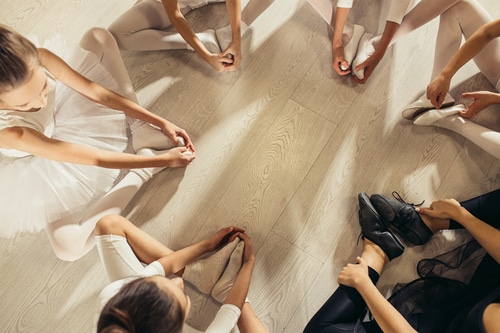 7. Protect yourself from liability with waivers
Although you emphasize safety as much as you can at your studio, sometimes accidents still happen. You'll want to protect your studio from legal liability if one of your students gets injured during your classes. To do this, we suggest implementing an online waiver onto your website or registration forms to protect your business.
Even if you're hosting remote classes, you should still include a waiver form in case any injuries happen while students practice at home. Then, you'll be glad to have a streamlined waiver system when it's time to return to in-person activities.

8. Incorporate virtual engagement
Although the pandemic probably caused a few setbacks for your dance studio, it doesn't mean you can't keep doing what you love. Now is the time to fully embrace virtual platforms, not only for your virtual dance classes, but for your online registration, payments, and scheduling. Shifting to a digital system increases the accessibility of your programs and ensures everyone can get involved. Your dance studio software can help bring your system up-to-date to embrace the opportunities available on virtual platforms.

9. Network with other dance industry professionals
Whenever the stress of running your dance studio starts to get to you, remember you're not alone. There's a vast network of other dance industry professionals to lean on for advice and support. Reach out to other established dance studio owners for more tips, discovering what works for other studios and how you can improve your practices. In return, you can share your insights with others to help them out as well.
When it comes to figuring out how to run your studio during a pandemic (or in general), two heads are better than one. Connect with these professionals over social media or a networking platform such as LinkedIn to kick off the conversation.

Conclusion & additional resources for dance studio owners
These nine tips will enhance your management practices and improve your studio by leaps and bounds. By incorporating your studio management software with an enhanced marketing strategy and a strong team behind you, your studio will grow and thrive.
Check out these additional resources for more information on tools that can improve your dance studio management practices:
Best Dance Studio Software. Ready to invest in dance studio management software to organize and simplify your business? Check out this overview of essential software features.
Student Management. Managing student information is one of the most critical aspects of your dance studio operations. Find out how DanceStudio-Pro's software option can take on the task of student management.
Dance Studio Apps. Interested in what a dance studio app can do for you? Learn more about the top features of MyApp-Pro.
Laura Cole, CEO of DanceStudio-Pro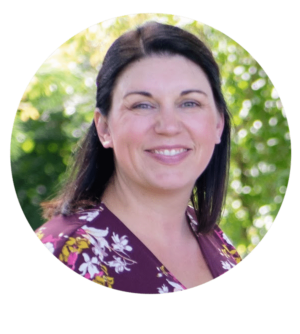 For more than 15 years, Laura Cole has focused on strategic planning and project management for SaaS organizations. Laura became the CEO of DanceStudio-Pro in 2020. Laura is a wife, mom, yogi and volunteer.