Peer-to-Peer Fundraising: Top Tips & Ideas for Dance Studios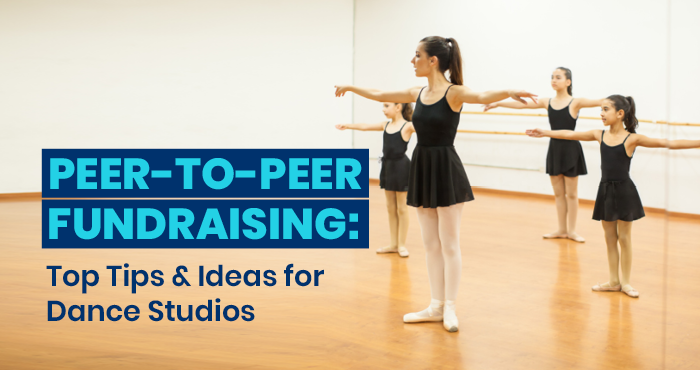 Between the COVID-19 pandemic and the economic turbulence that's followed, these past few years have been tough on dance studios worldwide. To keep their sanctuaries of self-expression afloat, many dance studio administrators have adopted new revenue streams beyond class fees or venue leasing.
Of these methods, fundraising has proven to be a simple and effective way for dance studios to raise money. From local community events to online fundraisers, fundraising provides dance studios the opportunity to bring in revenue while raising awareness for their programs.
In particular, peer-to-peer fundraising has become a rising trend among dance studios—and for good reason. Peer-to-peer fundraisers bring your dance studio's supporters right into the center of your campaign as they share their own donation pages and reach out to their personal networks on behalf of your studio.
In this guide, we'll cover some of the most essential elements for creating your own, successful peer-to-peer fundraiser, including:
With these tools in hand, your dance studio will be far better equipped to engage and inspire new and existing supporters to fundraise for your dance program.
Expert Tips for Successful Peer-to-Peer Fundraising
Pulling off an effective peer-to-peer (P2P) fundraiser takes more than just asking your customers to create donation pages and stepping back. With dedicated planning, promotion, and communication, P2P campaigns can bring in hundreds of new supporters and thousands of dollars for your studio.
Consider these essential peer-to-peer best practices from Donately's ultimate peer-to-peer fundraising guide:
1. Create a Robust Communication Plan.
Communication is the backbone of any successful peer-to-peer fundraiser. Because your supporters are doing so much of the heavy-lifting, it's essential to stay in touch with your volunteers, donors, and fundraisers to keep them passionate about your campaign.
Email is an especially important medium for communicating with your supporters. According to 360MatchPro's fundraising statistics, 33% of donors say that email is the channel that inspires them to give the most. Leverage email communications to send campaign updates, newsletters, donation pages and appeals, and even personalized thank-you messages.
Don't forget about your other communication channels! Be sure to coordinate your messaging over social media, direct mail, and SMS to ensure that you reach and engage as many people as possible during your campaign.
2. Tell Your Donors a Story.
Inspiring donors with your dance studio's story and the stories of your fundraising participants is one of the best ways to market your dance studio and encourage supporters to join your fundraising efforts. After all, while your loyal customers may be eager to lend a hand, it can be difficult to encourage outsiders to donate and carry on your campaign—even if their friends are asking them to give.
To encourage your customers to join your campaign, include compelling visuals of students, families, and community members who are closely involved in your organization on your website and in your marketing. Share information about your program's history, your positive impact on the community, and how the money raised will be used to continue helping others and enriching the community.
Similarly, tell your peer-to-peer participants to share their own photos and stories about dance and your studio when sending out their donation pages and rallying support for your cause.
3. Leverage Your Studio's Merchandise.
If your program doesn't already sell merchandise, consider incorporating it into your dance studio business plan. Branded merchandise is not only a great marketing and fundraising tool for your business, but it can also be used to motivate and thank donors, volunteers, and fundraisers during your peer-to-peer campaign.
Incentivize donors to give more and volunteers to fundraise as effectively as possible by offering items like these to your top performers and contributors:
T-shirts, hoodies, and hats
Water bottles and mugs
Backpacks and bags
Be sure to promote these complimentary fundraising rewards to your supporters, and include a link to your website's e-commerce shop for those who would like to buy your merchandise outright.
4. Invest in Peer-to-Peer Fundraising Software
As your peer-to-peer campaign grows in size and complexity, bringing in more money and support for your dance studio, you'll need dedicated P2P fundraising tools that can help you maintain your campaign's momentum.
The right online donation platform can help you achieve this, streamlining management for your peer-to-peer fundraising with:
Mobile-responsive, customizable fundraising pages for each volunteer fundraiser
Social media, email, and text sharing capabilities
Gamification tools, such as leaderboards and badges
Data analytics and reportage tools
When researching peer-to-peer donation tools, be sure to look out for these capabilities and other features that will simplify the online sharing and donation experience for your supporters.
Top Peer-to-Peer Fundraising Ideas for Dance Studios
Now that you've learned the best practices for organizing your peer-to-peer campaign, let's review some of the best peer-to-peer fundraising ideas for your dance studio.
Whether online or in-person, a good fundraising event, theme, or campaign will elevate your peer-to-peer fundraising efforts and get donors excited to engage with your cause.
1. Themed 5Ks and Races
There's a reason that 5Ks and races are consistently counted among the top peer-to-peer fundraisers. These fun events are not only simple to set up and manage, but they promote fitness and can be enjoyed by your entire community.
Pick an interesting theme, such as a zombie fun run or a paint attack 5K. Then book a track, set a time, gather your volunteers, and invite participants to create and promote their personal fundraising pages. This is also a good opportunity to sell your branded merchandise to give event-goers something to remember their experiences by!
2. Viral Video Campaign
Take the internet by storm with a viral video campaign! Issue an easy, interesting challenge to your supporters, like performing a silly dance number to a particular song. The goal is for your supporters to be able to perform the challenges wherever they are, splash their recordings across social media, tag their friends, and encourage others to join in on the campaign.
Encourage participants to not only record and share their challenges but also submit a donation to your campaign before passing on the challenge. Additionally, create a special hashtag for your viral video campaign that can be searched for easily to help gain the most support possible.
3. Dance-A-Thons
What better way is there to promote your dance studio than a dance-a-thon? Book a venue, hire a DJ, and have your dance instructors encourage and organize dancing throughout the night. Finally, encourage event participants to let loose and dance until they drop, with winners for different categories, like "longest dancer" and "most creative mover," receiving prizes.
You could even live-stream your event for donors who've pledged their support, allowing them to witness the show even if they can't attend in person.
4. Local Arts Fairs
Bring artists from all disciplines across your community together with a local arts festival. Invite visual artists, sculptors, dancers, and other artistic performers to purchase space at your event to sell their work or put on shows.
Local businesses will jump at the opportunity to help sponsor the event for promotion, publicity, and a chance to sell their products. On top of that, this is another great merchandising opportunity for your studio.
With planning and cooperation, you can set up a memorable, engaging event that brings your entire community together in a grand celebration of the arts.
---
There's a reason that peer-to-peer fundraising has spread far beyond the nonprofit world and become a staple for schools, youth programs, and dance studios. These simple, engaging, and fun initiatives can help your business well beyond just raising money.
With these expert peer-to-peer insights and ideas, you can cement your dance studio's financial stability, grow your customer base, and reach out to new audiences in exciting ways.