7 Fresh & Effective Dance Studio Fundraising Ideas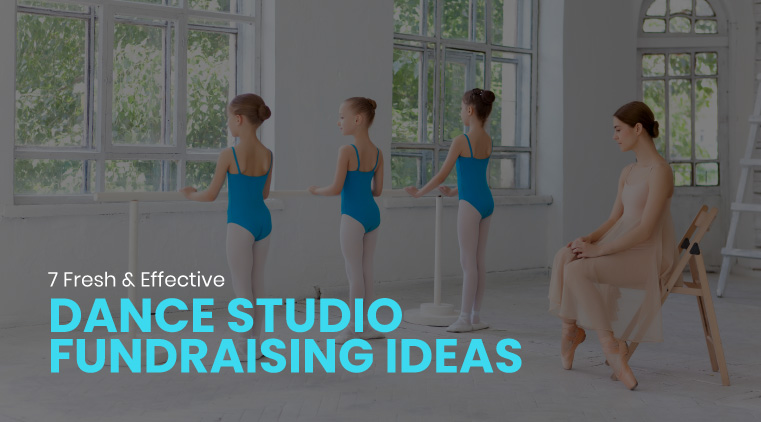 Most of your dance studio's revenue comes from class tuition payments and other student fees. But fundraising dollars can also be a welcome boon to your business, allowing you to level up your class offerings and offer additional opportunities for your students, like competition teams, scholarships, performance trips, and more.
Even though there are a number of benefits to fundraising for your dance studio, it can be challenging to plan campaigns that are simple to organize, fun and engaging for your dancers and their families, and profitable for your studio. Many dance studio owners struggle to know where to begin.
The good news is, that with a little research, you're sure to find a fundraising idea that resonates with your studio and your community. From there, you'll have no problem pulling in the dollars you need while also strengthening your studio's culture as you work together with your community to meet your fundraising goals.
In this post, we'll help you get started by walking you through seven fresh and effective dance studio fundraising ideas and the steps you'll need to take to get each one up and running:
As you explore each of these potential fundraising ideas, consider what you know about your dancers, their families, and other community members who support your business. Choose a campaign that will capture their interest and give them plenty of opportunities to volunteer and donate—this will put you on the road to success!

1. Dance-a-Thon
Dance-a-thons are popular fundraisers for many causes, but for a dance studio, it just makes sense! Plus, this unique and relevant campaign lends itself to a peer-to-peer fundraising approach. With peer-to-peer fundraising, your dancers (and other advocates for your studio) are put in the spotlight, sharing their own donation pages and reaching out to their family and friends on your studio's behalf. This fundraising method has the potential to expand your reach and bring in significantly more funding for your studio.
How To Get Started With This Dance Studio Fundraiser
Set a time and date for your dance-a-thon and determine whether to host it in-person or online.
Your students begin collecting pledges per dance (i.e. Jane's grandmother promises to donate $5 for every dance Jane completes at the dance-a-thon).
Host the dance-a-thon and track each participant's progress toward their goals.
Share results with each students' sponsors and collect their donations based on how many dances each participant completed.
Dance-a-thons and other event-a-thon-style fundraisers (walk-a-thons, read-a-thons, etc.) get your entire studio's community involved in raising money for your studio. Plus, dance-a-thons give you the chance to market your studio and its offerings to a wide variety of people, potentially increasing your class enrollments and performance ticket sales down the road!
2. Product Fundraiser
Product fundraisers are tried-and-true campaigns that can benefit all sorts of organizations, including dance studios. After all, the beauty of a product fundraiser is that everyone who donates to your campaign gets a little something in return for their generosity—whether that's a cool branded baseball hat or a delicious bag of popcorn.
How To Get Started With This Dance Studio Fundraiser
Partner with a dedicated product fundraising company who can be an asset to your studio throughout the fundraising process.
Select a product you know your supporters will love. Depending on your product, there will likely be a variety of colors, sizes, or flavors your supporters can choose from, too. For example, with an

ABC Fundraising cookie dough sale

, your supporters can choose from multiple cookie dough flavors, like chocolate chip, sugar, white chocolate macadamia, and snickerdoodle.
You and your students start taking orders for product purchases, either with a branded order-taking flier or through a fundraising web store.
Your fundraising partner completes and ships your order.
Your supporters receive their products, and you collect the funds you've raised!
A product fundraiser presents a unique opportunity to get your dancers involved in the fundraising process. When each dancer has their own order-taking flier or link to your fundraising web store, they can be empowered to go out and speak to family and friends about your dance studio and ask for donations. This can make your product fundraiser an especially rewarding experience when you all work together to meet your goal.
3. Shoe Drive
Shoe drive fundraisers are a unique type of fundraiser for teams, clubs, businesses, or any other type of organization looking to bring in extra funding without asking their community for money. These can be especially successful because some supporters might be more willing to donate goods (like used and gently worn shoes) than make a financial contribution.
How To Get Started With This Dance Studio Fundraiser
Partner with a dedicated shoe drive fundraising company.
The company will provide collection materials. Place these in highly-trafficked areas around your studio's neighborhood (such as in your dance studio and at other local businesses).
Encourage students, families, and other community members to donate gently worn and new shoes at these collection locations.
The fundraising company collects the donated shoes and sends a check to your business based on the weight of the shoes collected.
This fundraising idea can be especially effective if your dance studio is filled with parents and their young children, as they likely have several pairs of shoes lying around the house that don't fit anymore. A shoe drive allows people to declutter their closets and contribute to a good cause.
4. Community Dance Class
For this fundraiser, you'll leverage what your dance studio has to offer the community—high-quality dance instruction! This fundraising event will encourage aspiring dancers to take to the floor and may even result in new enrollments for your dance classes, all while helping you raise money.
How To Get Started With This Dance Studio Fundraiser
Select a teacher (or teachers) to teach your community dance class. Instruct teachers to design a one or two-hour beginner-level dance class for a style that is easy to pick up and doesn't require any special footwear or equipment.
Schedule your community dance class.
Get the word out about your community dance class using your studio website, social media, fliers, posters, and other marketing materials.
On the day of the class, either have participants register and pay online or charge a small entrance fee at the door as students arrive.
You can boost your community dance class fundraiser's profits in a number of ways. For example, you could sell branded studio merchandise, old costumes and uniforms, and gently used dance shoes. You could even raffle off a discounted class or a series of private lessons, tying your campaign to your studio's work and mission.
5. Virtual Performances
A virtual showcase is another fun, dance-specific fundraising event that can get your studio great results. Plus, this campaign can give your students a chance to sharpen their dance skills and practice performing. And, better yet, the virtual format can give your studio the chance to reach more people than just your immediate community members.
How To Get Started With This Dance Studio Fundraiser
Schedule your virtual showcase and determine whether dancers will be performing live or recording their performances beforehand.
Prepare your students to perform.

Sell tickets

to your performance, and send each ticket holder a link to where they can watch the show!
During the showcase (whether it's live or a livestreamed recording), interact with your audience members in the comments or live chat. You might share information about the dance styles shown or about each class's journey to learning their specific number.
Not only does this fundraiser allow parents to attend their dancer's performance from the couch and donate to your business, it can also be a great opportunity to gently introduce younger students to the sometimes nerve-wracking experience of performing. Alternatively, it can be a good chance for more experienced teams to polish dance numbers before a competition.
6. Car Wash
With this fundraiser, your studio's supporters will love the chance to get two things done at once—getting their car washed and donating to your fundraising campaign. Note that for this type of fundraiser, you'll need a dedicated team of volunteers and plenty of supplies (soap, sponges, hoses and a water source).
How To Get Started With This Dance Studio Fundraiser
Schedule your fundraiser on a day with mild weather and select a venue large enough to host your car wash (i.e. the parking lot behind your studio).
Recruit volunteer car washers to participate in the event and gather all of your supplies. You may want to divide your volunteers into specific teams (hosing, soaping, drying, etc.).
On the big day, charge a fixed rate per car.
For an extra fun spin, try giving your car wash a theme, like "Fun in the Sun" or "Flower Power." Plan costumes and music accordingly!
As you train your volunteer car washers before the event, emphasize the importance of interacting with each driver that comes through the car wash. Dancing along to music or waving and spreading smiles can go a long way in establishing a strong impression with your studio's supporters, old and new.
7. Hybrid Bake Sale
Bake sales are so effective because everyone loves the chance to indulge their sweet tooth in the name of a worthy cause. With a hybrid bake sale, you'll be putting a twist on a classic, offering both an in-person and online selling option. This will accommodate supporters who live far away or prefer to participate from home, as well as those who want to attend your event in person.
How To Get Started With This Dance Studio Fundraiser
Determine who will be making the baked goods. Will a team of volunteers be making a limited menu of treats? Is one of the parents at your studio particularly good at baking cakes? Are you able to invite a local bakery to donate baked goods on your behalf?
Plan your in-person event, securing a date, time, and venue (your studio will work great!).
Create an online order form for those who will be participating remotely.
On the day of the bake sale, enjoy the opportunity to chat with your studio's community, snack on treats together, and collect donations.
Deliver any orders that were placed online or in-person.
Here's one last tip for a great hybrid bake sale: make sure to include pictures of the goodies you're selling on your online order form! This will give your bake sale customers the chance to visualize each treat they can order and make their pick based on what looks the most delicious.
---
No matter how many classes you offer or how much branded merchandise you sell, sometimes fundraising is the answer to earning money for your dance studio and keeping business booming.
Great dance studio fundraising starts with a great fundraising idea. Use the ideas outlined above to determine what campaign will be the most exciting and effective for your studio's specific audience. Our steps will help you get started and raise the money your studio needs!