5 Profitable Fundraising Ideas for Your Dance Studio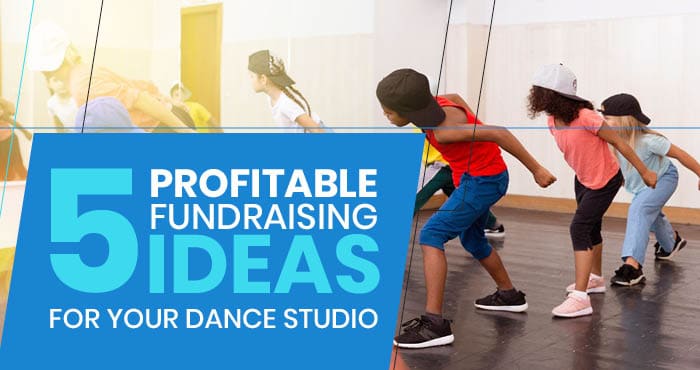 Creating successful fundraisers is a challenge that many dance studio owners face. It can be difficult coming up with ideas that are easy to organize, are profitable, and will get buy-in from your dancers and parents.
But, as you know, fundraising is also crucial. Although you most likely receive the bulk of your dance studio revenue from tuition payments1 and other student fees, fundraising can help you keep your business up and running efficiently. It can also help reduce costs for your competition team, scholarship offerings, performance trips, and more.
So, how can you find fundraising ideas that actually work?
That's where we come in. At ABC Fundraising, we work with a variety of organizations, from nonprofits and schools to small businesses like yours. From our years of fundraising experience in these numerous sectors, we know a thing or two about hosting successful (and profitable) campaigns.
That's why we've put together this quick guide to assist dance studios and other recreation businesses that are looking to raise money through the best dance-friendly fundraisers. Specifically, we recommend the following key fundraising ideas:
Discount Cards
Face Masks
Dance-a-Thon
Cookie Dough Sale
Shoe Drive
Whether this is your dance studio's first-ever fundraiser, or you're simply looking to spruce up your annual fundraising campaign, we surely have an idea that will work for you. Let's get started.

1. Discount Cards
Discount card fundraisers2 are a staple for many schools, clubs, and teams looking to raise a substantial amount of money while also providing a valuable incentive for supporters to get involved.
This fundraising idea is a win-win for everyone because your studio receives the proceeds from discount cards sold, while your supporters save hundreds of dollars from various coupons to local businesses.
Here's how it works:
You partner with a product fundraising company and other local businesses in your area.
You and your students start selling your discount cards (online, in-person, or both!).
Your supporters receive their discount cards and start saving.
Your dance studio receives the profits from cards sold.
When promoting your discount cards to potential buyers, be sure to stress the amount of savings included in the card. For example, be sure to emphasize that for only $X (typically around $10-20), they can save up to $X (typically more than $100). Even if, realistically, every buyer doesn't use every coupon included, it's still an all-around great deal!

2. Face Masks
One of the most popular fundraising ideas this season (for all sorts of fundraising organizations) is the custom face mask fundraiser.3 Since face coverings are now required in most public places, it makes sense that face masks would be a highly-demanded product to sell to members of your community.
Here's how it works:
You partner with a product fundraising company and send them your dance studio logo and color scheme.
You and your students start taking orders for custom face masks from friends, family, and community members (online, in-person, or both!).
Your fundraising partner prints and distributes your masks.
Your dance studio receives the profits from face masks sold.
As you can see, this process shares a ton of similarities to the discount card fundraiser. When you work with a dedicated product fundraising company, you can even conduct multiple of these fundraisers using similar processes—which makes it even easier for you and your team to pull off.

3. Dance-a-Thon
Dance-a-thons are popular fundraisers for a multitude of causes, but for a local dance studio, it just makes sense! Plus, this unique and relevant campaign pairs well with a peer-to-peer fundraising approach,4 which has the potential to expand your reach and bring in significantly more funding for your studio.
Here's how it works:
You plan an event (either in-person or virtual) and set a date and time. This will be the actual "dance-a-thon."
Your students begin collecting pledges per dance (i.e. Jane's grandmother promises to donate $5 for every dance Jane completes at the dance-a-thon). This process typically takes place for several weeks before the event.
You host the dance-a-thon and track each participant's progress toward their goals.
You share results with each students' sponsors and collect their donations based on how many dances each participant completed.
Dance-a-thons and other event-a-thon-style fundraisers get your whole team involved in raising money—including your students,5 your teachers,6 and your community.

4.Cookie Dough Sale
Cookie dough fundraisers7 are a tried-and-true fundraising idea for all sorts of organizations—because who doesn't like the convenience of gourmet, pre-portioned cookie dough? Supporters know that cookie dough fundraisers sell the highest quality of dough, so they'll want to buy some for sure.
Here's how it works:
You partner with a product fundraising company.
You and your students start taking pre-orders for cookie dough purchases either with a branded order-taking flyer or via an online web store.
Your fundraising partner completes and ships your cookie dough orders.
Your supporters receive their tubs of cookie dough (and make delicious cookies out of it).
You pay the wholesale price and keep the rest of the proceeds for your studio.
With your whole team of dancers, parents, and instructors on board, you can sell a ton of cookie dough—and earn up to 80% profit by doing so. Talk about bringing in the dough!

5. Shoe Drive
Shoe drive fundraisers are a unique type of fundraiser8 for any team, club, or organization looking to bring in extra funding without asking their community for money. These can be especially successful because some supporters might be more willing to donate goods (like used and gently worn shoes) rather than make a financial contribution.
Here's how it works:
You partner with a dedicated shoe drive fundraising company.
The company provides collection materials that you place in highly-trafficked areas around your neighborhood (such as in your dance studio and at other local businesses).
You encourage students, families, and your overall community to donate any gently worn, used, and new shoes at these collection locations.
The fundraising company collects the donated shoes and sends a check to your business based on the weight of the shoes collected.
Especially if your dance studio is filled with parents and their young children, they likely have several pairs of shoes lying around the house that don't even fit anymore. This is the perfect opportunity for individuals to declutter their closets for a good cause.
---
Whether you're hosting an engaging event9 or an intuitive online campaign, you'll be able to garner support for your dance studio from friends, family, and the greater community. Plus, your fundraising efforts will double as bonus marketing for your studio—it's a win-win!
If you're looking for additional information about dance studio fundraisers or any of the other topics discussed in this article, check out the links below: