4 Event Ideas to Raise Support for Your Small Business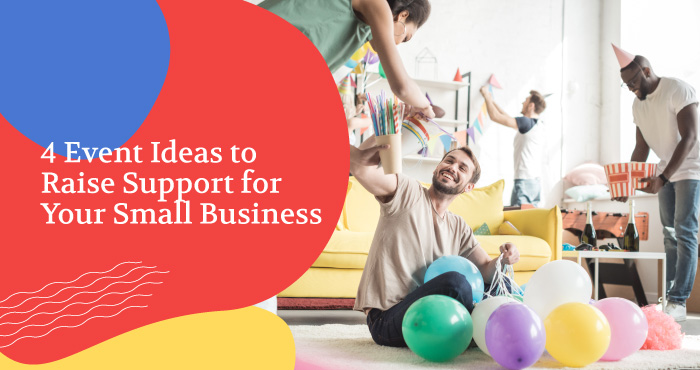 Events are important marketing and revenue-generating opportunities for small businesses. While you may not have the resources to host an extravagant gala or auction, even a simple event can boost employee morale, generate publicity, and foster meaningful relationships with customers. This can mean new and exciting growth for your organization, allowing it to become a cornerstone of your community.
Whether you own a pet grooming business or are in the process of opening a dance studio, these four event ideas will help raise meaningful support for any type of small business.
1. Webinars
Hosting an online event, like a webinar, is an inexpensive way to raise brand awareness and expand your audience beyond those in the local area. A webinar is an online seminar that allows your team to share important information and prompts attendees to engage in discussions about your work. By sharing your expertise and positioning your small business as a thought leader in the industry, you can gain the trust and respect of potential customers, which, in turn, can lead to increased sales.
Follow these three tips to host a successful webinar:
Narrow down the subject.

Choose a topic that aligns with your goals and is relevant to your target audience. For instance, if you have a new

dog training business, you may choose to introduce yourself to the community and explain how customers can benefit from bringing their dogs to training sessions. Or, you might focus your webinar on informing participants about the trends, changes in legislation, and economic factors that affect your industry.
Source speakers.

Once you choose a topic, find an expert in your field who can bring their perspective and expertise to the webinar. While there are endless ways to source speakers,

NXUnite recommends

scanning through your email lists, conducting Google searches, and exploring hashtags related to your organization on social media. If you find someone who could be a good fit for your webinar, send them a message introducing your business and inviting them to lend their support.
Promote audience participation.

Include polls throughout your webinar to promote audience participation and gather important information from potential customers. For example, you could ask, "Which topics would you like the speaker to elaborate on?" and have the speaker present on the subject that earns the most votes. You can also hold a designated Q&A session to make the audience feel recognized and connected to the event.
If the webinar generates positive feedback from participants and helps you acquire new customers, consider making them recurring events. Send a survey to your supporter base asking how often they would attend a webinar hosted by your small business and what topics they would like to learn more about.
2. Partnership Events
If your small business doesn't have a robust pool of customers to invite to your event, you could benefit from co-hosting an event with another business in the community. To ensure a successful partnership, it's important to choose an organization that shares a similar vision for the event and holds values that align with your business's. Reach out to prospective businesses and ask detailed questions about who their customers are, what their goals are for the partnership, and how they expect to contribute to the event.
An example of a mutually beneficial partnership would be a dance academy owner teaming up with a daycare facility to host beginning ballet lessons for toddlers. The businesses share similar customers, parents of small children, and would therefore benefit from hosting an event that showcases both of their services.
Once you've secured a partner, delegate roles and set clear expectations for each business. While tasks like event registration and merchandise sales can be shared by both parties, other roles will be better suited for a particular business and should be defined clearly. In the example above, the dance studio owner would be in charge of giving ballet instruction, while the daycare might lend their facility to use for the event or advertise the opportunity within their own network of parents.
When executed properly, partnership events can have a greater impact than an event organized by one small business alone. With the support of another business, you can host a memorable event with limited resources and connect with new customers who likely already have an interest in your services.
3. Workshops
Bring new customers into the fold by hosting an interactive class or workshop. Find someone who would be willing to showcase a skill or teach people how to make a product that is relevant to your business. For instance, if you run a dance studio, you could have an experienced instructor teach a course on ballroom dancing.
Some other examples of small-business-related workshops include:
Hosting a cooking class where a local chef teaches participants how to make a special dish.
Inviting a local artisan to oversee pottery lessons on a monthly basis.
Bringing in a dog trainer

to teach a "Potty Training 101" workshop for new pet owners.
Having a healthcare professional provide a CPR certification course.
Whether you hire outside talent or enlist the help of your staff members to lead the event, a well-designed workshop will provide participants with a valuable experience and leave them with a positive impression of your organization.
4. Nonprofit Fundraisers
Partnering with a local nonprofit to raise funds for their endeavors is a great way to deepen your involvement in the community and boost your brand's reputation. If possible, choose a cause that aligns with your own mission. Then, use the following ideas to make an impact on your charity of choice:
Host a donation drive.

Create a campaign in which a portion of your product and service sales go to a nonprofit. For example, Gingr suggests selling branded merchandise

to help your small business increase brand recognition and earn more funds. Then, you can donate some of the profits from those sales.
Provide in-kind donations.

Have a box at your facility dedicated to collecting in-kind donations, such as canned goods, from customers who are feeling generous.
Offer volunteer support.

Set aside a workday for you and your staff to assist at a local nonprofit. Then, post pictures and share stories about your volunteer experience across your marketing channels.
By teaming up with a nonprofit, your small business can reach new markets for customers and make a positive difference in the community.
From launching a webinar series to partnering with a local business to host a dance recital, there are countless event ideas that your small business can use to inspire meaningful engagement. Choose an event that aligns with your goals, budget, and audience and be sure to thank attendees for their commitment to your organization. Doing so should result in a loyal customer base that will be well worth your efforts.
---
About the Author | Casey Dorman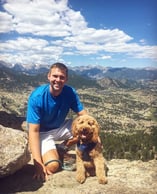 Hi, I'm Casey! I'm the Sales Manager at Gingr software. Originally from Indianapolis, I now live in Colorado with my wife and dog, Dexter. Our hobbies include hiking, skiing, and visiting local breweries.