3 Ways to Show Appreciation to Your Dance Studio Employees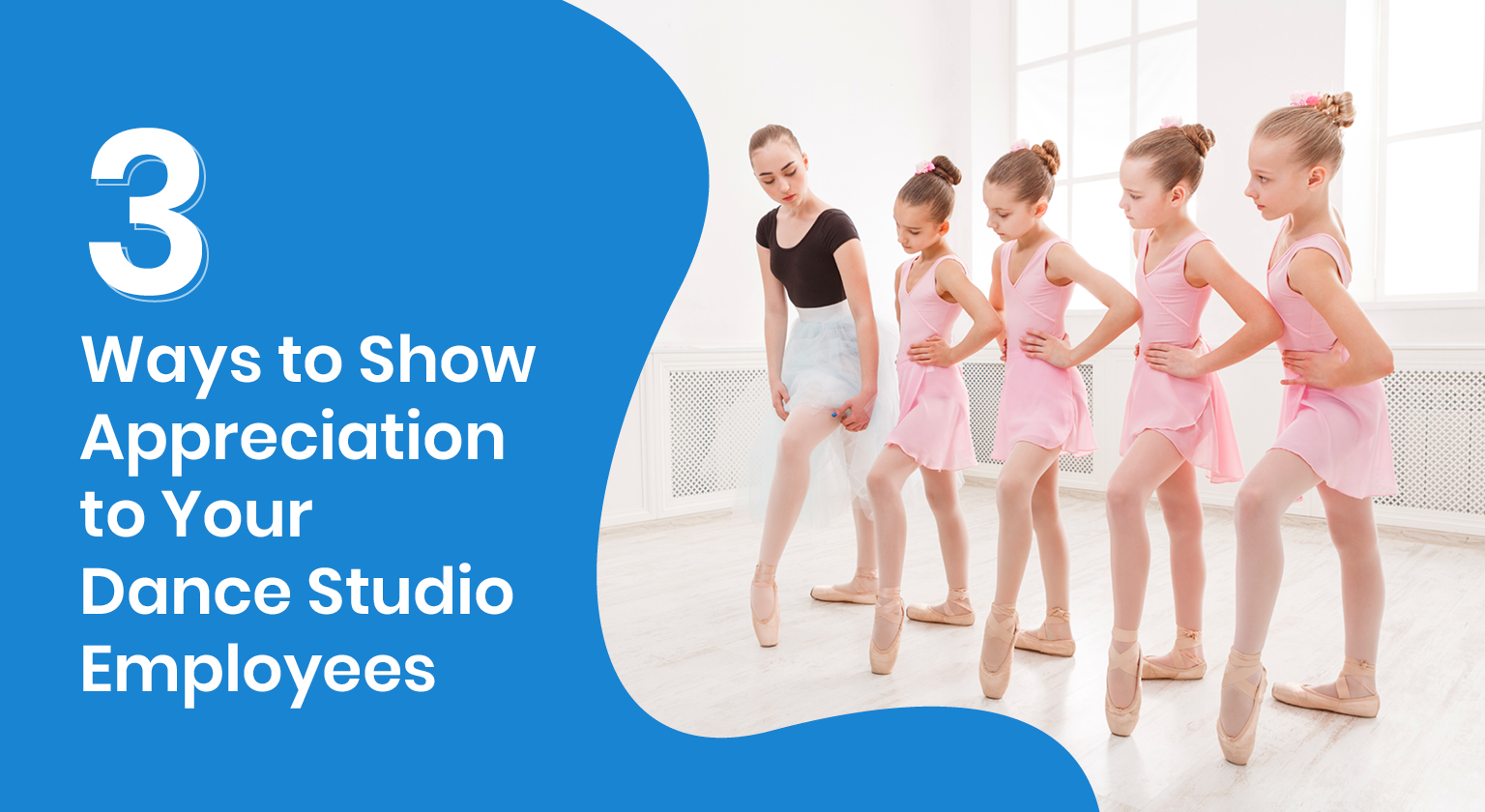 Whether they're choreographing dances for your upcoming recital or working on your social media marketing, your employees provide a lot of value to your dance studio. To show employees you appreciate their hard work, you need to develop a strong employee recognition program.
There are a number of benefits to showing employees you appreciate everything they do. In fact, one study found that companies with employee recognition programs see employee performance and productivity increase by 14% more than those without. Not only will your employees be happier in their roles, but they'll also work harder to make your business better when they feel seen and appreciated for their contributions.
Use these top tips to recognize your dance studio employees and boost their productivity:
Your employees show up for your studio day in and day out to make your business the best it can be. Show your team the recognition they deserve and take your business to the next level with a robust appreciation strategy. Let's begin.
Send a digital eCard
You're likely familiar with sending employees handwritten notes after big achievements, but have you heard of digital eCards? eCards are electronic greeting cards that make recognizing your employees rewarding and fun. Rather than having to handwrite tens to hundreds of letters to mail to your employees, streamline the process by sending custom greeting cards right to their emails, cell phone numbers, or social media handles.
eCardWidget's guide to employee appreciation explains that you can start sending eCards with these four simple steps:
Partner with a dedicated eCard platform

that offers ready-to-go design templates and simple sending capabilities so you can recognize greatness and boost team morale with innovative greeting cards at any time. Plus, your platform should readily integrate with your internal company portal so these cards are easy to access and send.
Create custom greeting cards

that align with your business's branding or choose from your eCard platform's many business-ready templates. For example, you might create greeting cards that represent each of your company's values, such as prioritizing dancer safety or cultivating creativity in the classroom. Then, send an employee a card any time you see them putting a given value into action.
Add a personal message

that describes the specifics of what the employee did. For example, you could say, "Great job, Miranda, on choreographing an award-winning routine for our competitive hip-hop team!" Tailoring your eCard to the individual helps them feel truly seen and recognized by your organization, so be as detailed as possible.
Send your card off

with one click via email, SMS, LinkedIn, Facebook, or Twitter.
Get creative with your eCards and empower anyone at your business to send them. For instance, you could even allow employees to send peer-to-peer recognition cards to each other to help foster an inclusive, welcoming, and collaborative internal culture.
Celebrate employee appreciation day
Employee appreciation day is a national holiday that takes place on March 1st of every year. This shouldn't look like any ordinary day at your workplace! When employee appreciation day comes around, your leadership team should put extra effort into making employees feel valued.
Here are a few different ways you might celebrate employee appreciation day:
Host a luncheon or after-hours dinner:

Cater meals from your employees' favorite restaurant, meet at the restaurant for lunch as a team, or invite employees to bring in homemade treats to celebrate in the lunchroom. You could also host a dinner party after work hours so you don't interrupt your usual schedule of dance classes and all of your

dance teachers

and employees are available to attend.
Distribute employee gifts:

Gift your employees with branded company swag, like water bottles with your dance studio's name on them or sweaters that proudly show off your logo. You could also go the extra step of giving out personalized gifts to each employee. For instance, you might give your ballet teacher a new leotard or provide your administrative assistant with a new mug or office supplies.
Give out employee awards:

Consider hosting an

awards ceremony

during an extended break or after work hours that thanks employees for all the incredible work they've done. You might give each employee a plaque or certificate and call them up one by one, explaining what they've done to earn the particular award.
If you're not sure which activity your team would enjoy most, ask your employees directly how they'd like to celebrate employee appreciation day by sending out a survey to your entire team. NXUnite's guide to employee retention explains that asking for employee feedback on your appreciation strategies will help employees feel like their voices are heard, so regularly collect their insights and settle on something that will make everyone feel content.
Give public shout-outs
One of the best ways to recognize your employees is by shouting out the great work that they've done so everyone can see it. Public recognition can make employees feel truly special and will reenergize your entire team, as they'll be able to see the type of work they should emulate.
Consider shouting out your employees online through the following channels:
Email newsletters:

Create a section in your staff-only newsletter that recognizes a new employee every week or month. This way, everyone has a chance to be seen and can work hard towards being featured.
Group chats with parents:

Your dance studio might

leverage an app

where you can regularly communicate with parents and dance families. Consider sending messages to your parents that call out special achievements and milestones that your staff have accomplished. For example, you might have a group chat with all of your ballet dance families. On your ballet teacher's fifteenth work anniversary, you can notify your dance families so they'll be sure to congratulate them on the big day.
Social media posts:

Social media is a great way to publicly thank your employees so their peers see it as well as dance families and members of the community. Consider sharing a post each month that highlights an employee, including details like how long they've been working at your studio and what they do. This is a great way to humanize your studio to prospective dance clients and motivate employees to keep up their hard work.
You might also create a physical employee recognition wall at your studio so anyone walking by can see. If your studio has an Employee of the Month program, frame their picture and display it prominently in your lobby. Or, to help everyone feel included, put up multiple pictures at a time. Add their names and specific achievements so everyone will know what makes them an outstanding member of your team.
---
Your dance studio employees are the backbone of your business, and it's important to not take their efforts for granted. A well-designed appreciation strategy will boost your satisfaction rate, increase productivity, and contribute to a blooming internal culture where everyone will want to work diligently to push your goals forward. Make sure you have the right employee recognition tools, like an eCard platform and dance studio app, to make recognizing your employees a breeze.