How to Create Positive Studio Culture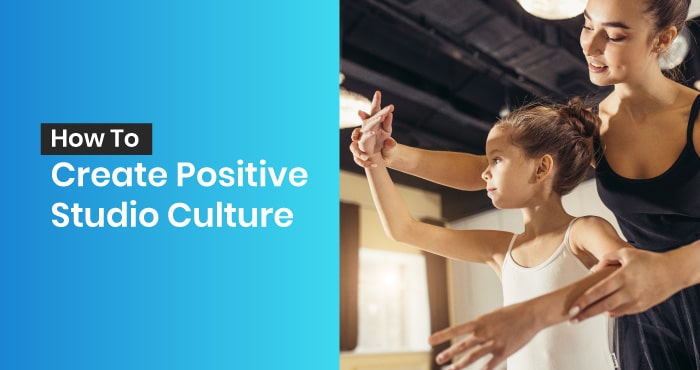 Pop culture loves a bit of dance drama. From the TV show Dance Moms to Center Stage, Turning Pointe, and even the more recent Netflix Series, Pretty Little Things, it's no wonder there's a popular belief that dance = drama. And while these shows might give us some laughs and great memes, the reality is that no dance teacher or studio owner seeks out to create drama. There will inevitably be misunderstandings and some conflict in the dance studio (as there are with all businesses), so studio owners should have tools to nip drama in the bud – before it gets out of hand and wreaks havoc on the dancers, staff, and positive environment you as the studio owner have worked so hard to create and maintain.
Creating a positive culture in your studio is both a preventative and ongoing effort. Good vibes at the studio are not only good for gaining parent approval, but they also mean students that stick around longer, happy staff members, and a studio director (that's you!) who is motivated, inspired, and excited to come to work each day. Investing the time, systems, and habits that keep drama at bay will sustain not only your energy and motivation, making it easy to remember why you love your job so much! Keep reading to discover four tips you can implement now to create a positive studio culture!
1. Clarify Your Studio's Mission & Values
Revisiting your 'why' as a studio owner is always worthwhile (and especially after the past 15 COVID months!). Many people think their why is fixed in stone and won't ever change, but this couldn't be further from the truth. We change constantly! As teachers, as business owners, and as individuals, it follows that our reasons for owning and operating a studio will change as well.
Think of these questions as an opportunity to hit the refresh button on your studio and check that its foundations are strong and sturdy. Ask yourself:
Why does your studio exist?
What purpose do you want it to serve?
How and why do you do what you do?
What do you value as a studio owner and educator?
Are your values as an educator and studio owner aligned with your values as an individual?
How can you clearly communicate your studio's values and mission?
This is an essential first step in creating a positive studio culture because these questions (and your responses) will help you to zoom out and give you a broad, big picture view of your studio. As a studio owner, it can be all too easy for our days, time, and energy to feel tight and constricted; bogged down by our daily responsibilities and to-dos. Doing this work on values helps remind you of the reasons you began your studio. It can also help you pivot towards new projects, policies, and offerings if what you have been doing no longer feels exciting or rewarding to you.
There's room for flexibility in these questions as well! Make a collage of your answers (vision board, anyone?), or use markers, stickers, and paint! Play some good tunes in the background and allow this to be a fun, explorative exercise, rather than simply another task on your to-do list.
2. Use Mindset Skills to Keep Confidence High
I often hear dance teachers express a desire for their students to be confident. This is understandable since confidence usually means highly motivated students, and motivated students are more likely to stick around for the long term. That's good not only for the finances of a studio but for our desire to raise dancers who have a lifelong passion for dance.
This article has wonderful tips on how to lay the foundation for your students to be motivated – and mindset plays a huge part. Mindset skills can easily be incorporated into your regular technique classes, so you don't have to add more to your to-do list and risk getting burned out.
If your dancer's motivation and confidence have felt stuck and stagnant, mindset skills are the answer; they're like releasing the Emergency brake you didn't realize was on!
Mindset goes beyond the confidence of your students too. Training your staff to have a growth mindset in their teaching means they see challenges as opportunities to grow and learn, rather than labeling them as 'problems.' This extends to you, the studio owner as well. With a growth mindset, you can learn to see student behavior problems or parent complaints as signals that students or parents are missing something – whether that be connection or support in the studio, or encouragement and positive reinforcement within dance classes. When we use and apply mindset tools, we shift from focusing on what's 'wrong', to everything currently going right and can go right for the future.
3. Over Communicate to Keep Everyone on the Same Page
When in doubt, it's always a best practice to over-communicate. This doesn't mean, however, that you have to spend hours in front of email, Google Docs, making newsletters, or flyers. There's nothing worse than spending your limited time and energy on communications that go unread. Yet parents and students feeling out of the loop can be a big culprit for negativity and drama to set in. So how can you effectively communicate to keep everyone on the same page and in the loop without creating more work for yourself?
A dance studio-specific management program is a great option. These programs are designed with you in mind and can optimize your organization and communication to ensure no one gets left behind. As a studio owner, you have to connect a lot of dots for a lot of people. Using tech tools can help you do that. Studio parents and staff will appreciate the streamlined communication, so they feel included and valued, which in turn, means everyone can focus on dance, rather than the little dramas of 'I never got that email,' or 'I was the last to know about this.'
Speaking of communication, the language we do (and don't) use in our classes, marketing materials, and communications can make or break studio culture. Making your studio more inclusive is a goal all studio owners and teachers should always be working towards. This includes actions, like updating dress codes and diversifying your class offerings, but also becoming aware of our language, and getting curious about how students, staff, and parents might be hearing or interpreting the things we say. This social media post offers some practical examples and tips for language do's and don'ts in the dance classroom.
4. Create Engaging Goals for the Entire Studio
It's fair to say that a dance studio is about much more than dance. The studio is where dancers learn technique, yes, but they also develop lasting friendships, confidence, discipline, and many other life skills that will serve them for years to come – both inside and outside the dance studio. There are so many ways to engage the members of your studio family that go beyond their classes and cultivate an environment that encourages learning, camaraderie, and shared learning.
Have a studio-wide gratitude challenge. Gratitude has been scientifically proven to enhance our health (both physically and mentally). Encouraging everyone in the studio to bring their gratitude game to dance is a way to fast-track positive vibes.
Fundraise with a common goal in mind. Fundraising isn't new to studios, but when you use one of these 5 ideas and communicate to everyone in the studio what you're fundraising for (scholarships, costumes, travel – whatever you like!) you create common goals and give studio members a chance to invest in the cause.
Learn alongside your students. Providing the studio with opportunities outside their common scope of learning offers multiple benefits for you and the dancers. By hosting workshops, or bringing in guest teachers, you model the value of continuing education and can learn alongside your students on new topics like Dancer Wellness. (Plus, it takes the pressure off of you to be leading all the time!)
Creating a more positive studio culture can seem like a daunting task that requires a complete studio overhaul, but when you start with just one of these tips, you'll be laying the first brick to a solid foundation that will serve your studio and everyone in it for years to come. Dance teachers especially, know that practice makes for progress; if you commit to just one or two of these practices and have a little patience with the process, you're sure to see positive results.
Give yourself credit for all you've built in your studio and the fact that you're looking to improve and grow your studio! That fact alone should reassure you that your heart and intentions are in the right place – and that's more than half the battle! Use this article for support, and keep going! A more positive dance studio culture is right on the other side of taking action.
---
Katrena Cohea is the CEO of Different Drummer Dance, a dance studio and online education platform on a mission to bring much needed mental, emotional, and physical wellness to dancers and dance teachers.
Katrena grew up in California, studying the Royal Academy of Dance syllabus and later completed the RAD's Certificate in Ballet Teaching Studies. She danced with the San Francisco Conservatory of Dance and professionally with the flamenco group, Brisas de Espana. Katrena graduated from Cal State University East Bay, with a degree in dance and has been teaching in public and private schools for over 15 years.
As the CEO of Different Drummer Dance, she hosts in person and online dancer wellness courses, memberships, and workshops on topics such as body kindness, mindset, mental training skills and emotional wellness. She's spoken internationally to audiences about the importance of creating and implementing wellness resources for a new generation of students and educators.
She currently lives in upstate New York with her husband, where she enjoys hiking the Adirondacks and re-creating every possible bake from the Great British Baking Show.