Spring Fling: A Pandemic Alternative to Traditional Dance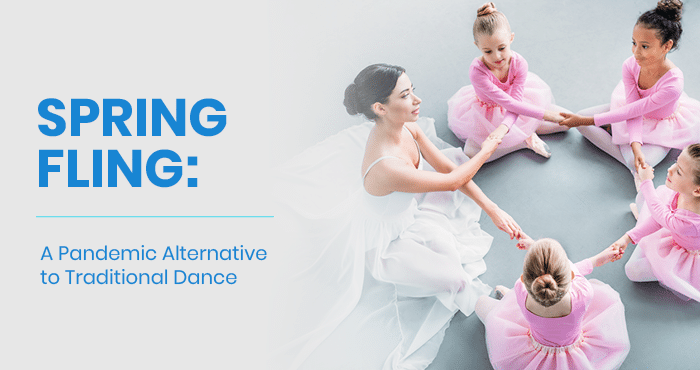 Recitals are crucial for dance studios. They are not only an important revenue stream for the business. They also are a tangible goal for dancers and teachers to work towards throughout the year. Therefore, the Covid-19 pandemic has caused dance teachers all over the world to reimagine what dance performances look like. For many, this has resulted in variations of virtual performances, in-studio showcases, outdoor performances, recording/movie viewings, and more.
One additional solution I've found effective is creating a Spring Fling!
What is Spring Fling?
To keep dancers engaged in their classes I am creating a "Spring Fling" mini-performance in March with dances about bugs, flowers, and rainbows.
Why do Spring Fling?
Spring Fling gives dancers a tangible goal to work towards in the early months of 2021. Because our local guidelines have closed our lobby, we are also using this to stay connected to dancers and their families and provide something to look forward to as we work towards "returning to normal."
How do dancers participate in Spring Fling?
Dancers will opt into the "Spring Fling" mini-shows and perform in the studio wearing their dress code and accessories. They will either be recorded or have a limited capacity audience pending our local guidelines. They will learn the routines for 10-15 minutes in class January-March. The fee to participate is included in their Recital Participation Fee for 2021.
How do you organize a Spring Fling for your dance studio?
If you already have a dress code at your studio, simply assign songs/routines and accessories to each age group. For example, all of our Twinkle Babies ages 2-3 will learn "Baby Bumble Bee" and receive a pair of antennae to wear with their pink sparkle tutu dress for "Spring Fling."
Here are some of the songs we will be using:
"Baby Bumble Bee"
"Sound of Music"
"Over the Rainbow"
What extras can I add?
Adding little extras like:
a "Spring Fling" participation ribbon
a recording of the performance
action photos
a costume car parade (our dancers and families love these!)
…are just a few ideas to help make this day even more special!
As Covid-19 vaccinations start being distributed and consumer confidence grows, I am anticipating that more traditional recitals will be back on the rise again. However, I have been pleasantly surprised by how personal my virtual and in-studio recorded shows have felt and by all the positive feedback I received from my dancers, their families, and my staff. Dance performances (no matter which format they're in!) provide a valuable connection between you, your business, your dance families, and your extended community. While I have enjoyed "the great pause" and a moment to catch my breath to reflect on over 20 years in the dance studio business, I am eager to get creative and get planning for "Spring Fling" and Recitals in 2021.
Meet Tiffany Henderson
Tiffany Henderson is an industry leader and dance business expert. Tiffany owns and operates seven Tiffany's Dance Academy locations in Northern California. Her video-based teacher training system and curriculum, Twinkle Star Dance, is currently implemented in 300+ dance studios worldwide.