10 Best Apps for Dance Studios to Streamline Your Operations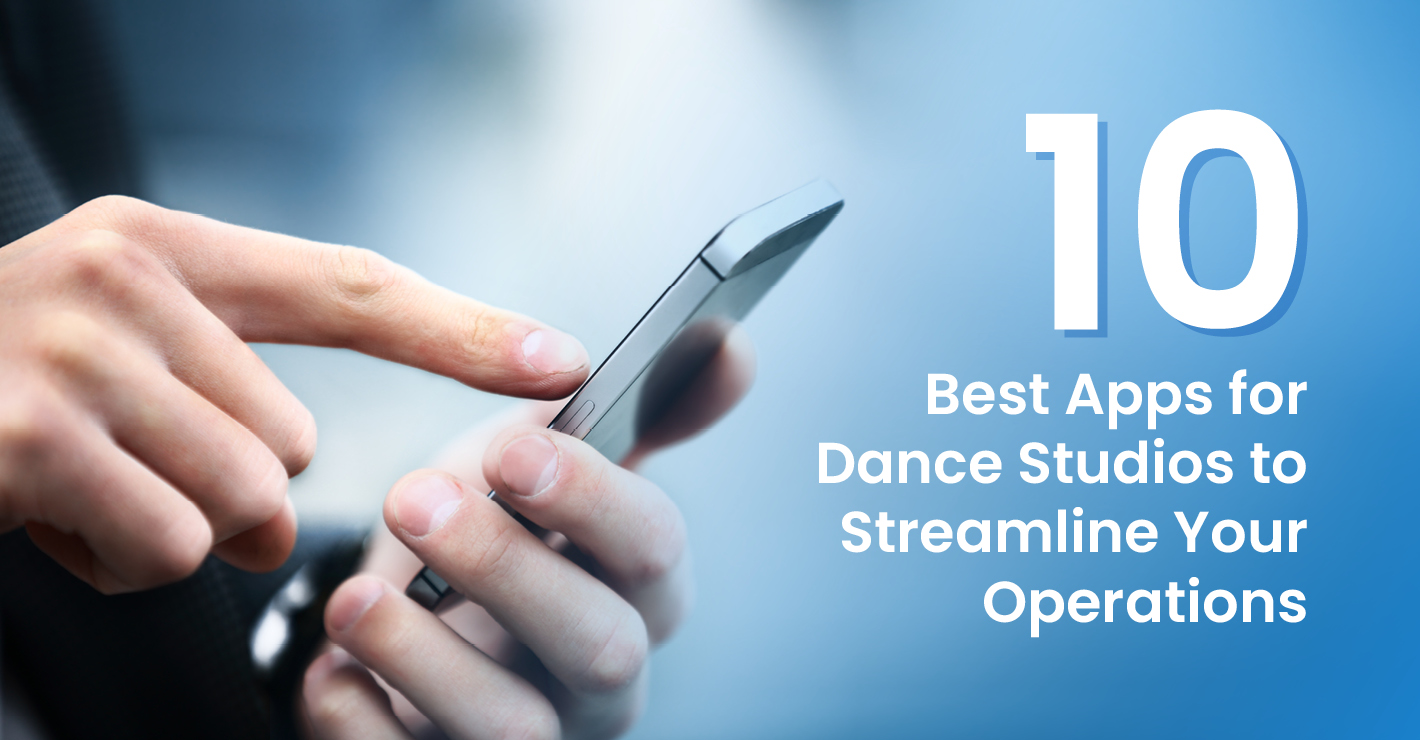 Running a dance studio involves many moving parts. From processing your students' tuition payments to communicating important updates to your community, your studio likely has its hands full. Rather than overwhelming your staff, streamline your operations by upgrading your tech stack with apps for dance studios.
Dance studio apps allow you to access powerful software and management tools right from your phone, empowering your staff to advance your business anywhere, at any time. Whether you need to make payment processing more convenient for your team and customers or reenergize your dance classes with innovative choreography tools, there's an app that can help!
Plus, the right apps for dance studios can help you better connect with your dance families, allowing you to facilitate stronger relationships and retain your students long-term. Your dance families will appreciate a positive customer experience and your studio will benefit from greater organization to power your operations—it's a win-win!
In this article, we'll explore these top apps to give your dance studio a leg-up:
With the right tools, your studio can transform its business to bring in more revenue, maximize your reach, and grow over time. Let's dive in!

1. DanceStudio-Pro: Best Dance Studio App Overall
Whether you need simplified ticketing features for your next dance recital or want an easy way to send dance parents important reminders, DanceStudio-Pro has you covered!
DanceStudio-Pro is the premier dance studio management software, empowering studios of all shapes and sizes to improve efficiency, establish clear lines of communication with students and dance families, and boost sales with ease. As your dance studio grows, DanceStudio-Pro's scalable platform will help you promote your ongoing success, allowing you to manage an unlimited number of students.
The experts behind DanceStudio-Pro understand that your studio has a lot of responsibilities and needs the ability to tend to them on the go. With this in mind, DanceStudio-Pro offers two out-of-the-box mobile apps as part of its comprehensive software:
The Studio Manager App:

Empower your studio owners, teachers, and administrators to manage all elements of your business, from tuition and payment processing to sending alerts and reminders to your dance families.
The Portal App:

Enable your parents and adult members to stay up to date on all things related to your dance studio and ensure all relevant forms and payments have been submitted.
Used together, these apps make it simple for your staff to manage your dance studio and convenient for your dance families to engage with your business.
Top Features
Armed with DanceStudio-Pro's powerful Studio Manager and Portal Apps, leverage top-of-the-line mobile features to accelerate your growth. Let's take a closer look at the top tools on each app.
Studio Manager App for Owners, Administrators, and Employees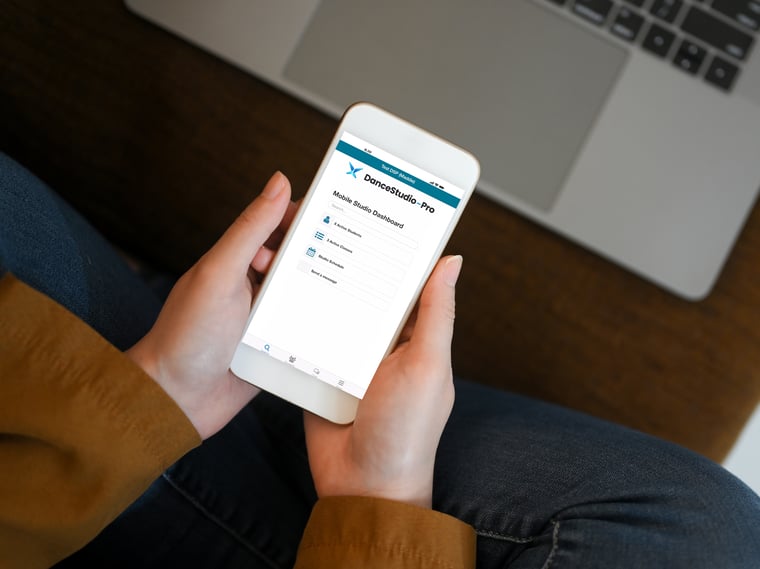 Tuition Management and Payment Processing:

Post student tuitions and enable parents to view account balances.
Class Manager for Teachers:

Equip your teachers with the ability to manage their students on the go. Teachers can take attendance, book private lessons, access lesson plans, and more.
Point-of-Sale System:

Use an integrated point-of-sale system to create an online store where parents can purchase items like leotards, ballet shoes, and other dance accessories right from their phones.
Robo-Mailer:

Automate emails to be sent in advance to your dance families and segment your communications by classes or groups, or email students individually

.
Portal App for Parents and Dance Families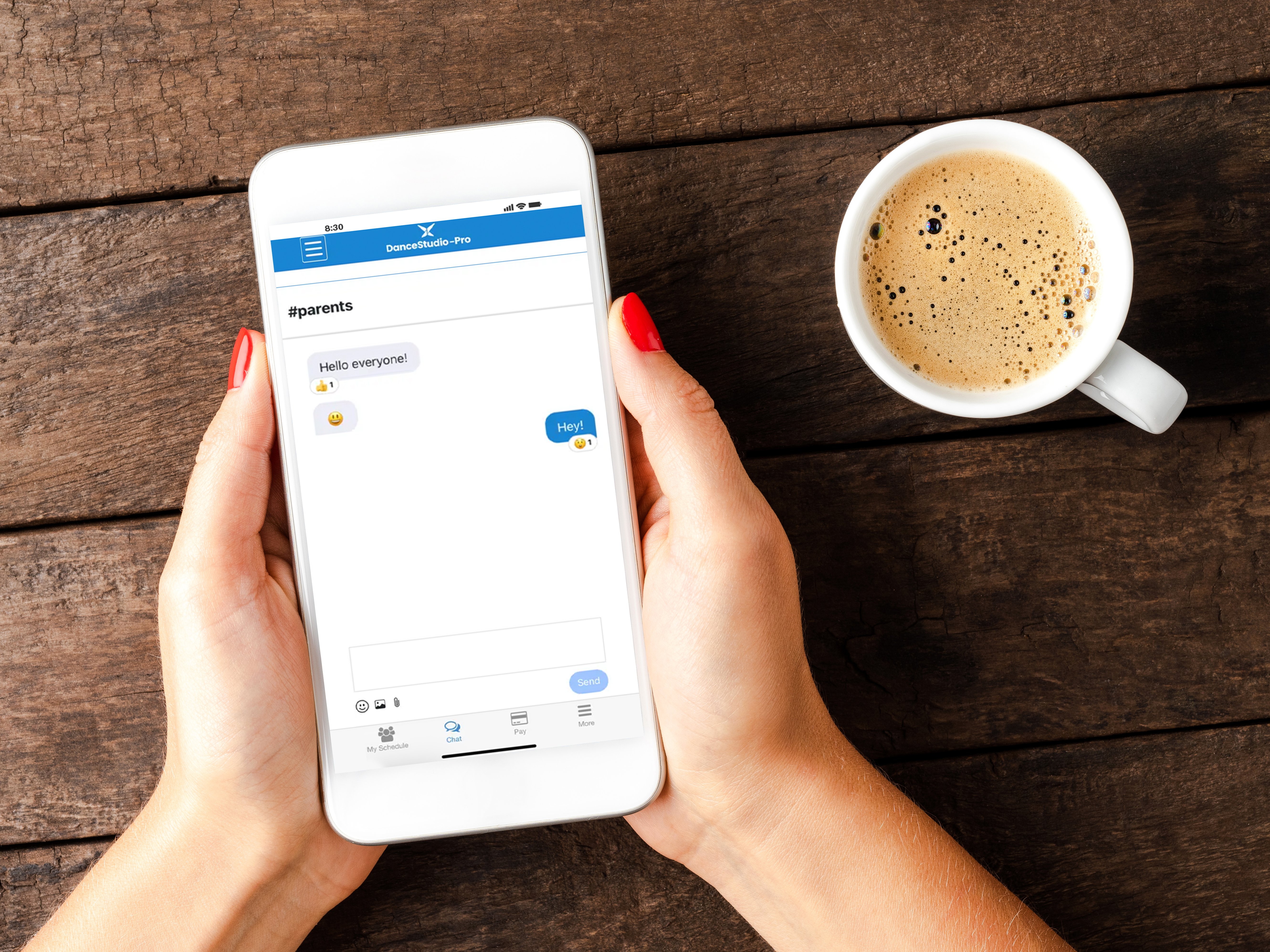 Online Class Registration:

Enable parents to select the classes and seasons they intend to register their students for. Plus, parents can conveniently make a payment to secure their dancer's spot in a class and electronically sign and submit waivers.
Online Payments:

Submit billing information to securely process recurring and one-time payments from parents' accounts.

Schedule Viewer:

View important dates like students' class schedules, upcoming recitals, rehearsals, and more.
Studio Chat and Push Notifications:

Facilitate two-way communication between parents and your studio. This feature is available with DanceStudio-Pro Premier.
With these streamlined apps, your dance studio can effectively centralize your communications, student data, and payments all within one system. This way, your staff won't have to worry about piecemealing different platforms together or accidentally losing any key data.
Pricing
The Studio Manager App and Portal App are included with the price of DanceStudio-Pro's software, which is priced at $45/month. With DanceStudio-Pro Premier, you get all the exceptional features of DanceStudio-Pro plus Studio Chat, individualized user settings, and Zapier integrations at $75/month.
Through DanceStudio-Pro Premier's Zapier integrations, you can readily integrate your dance software with thousands of other apps for dance studios, allowing you to consolidate data from multiple sources and draw insights about the health of your business. For example, you can send financial information from your dance studio software to apps like QuickBooks, Excel, and Google Sheets. This way, you can automate your workflows and ensure you have the most consistent and accurate data about your business.
For more information, visit DanceStudio-Pro's pricing page or try it out today with a free 30-day trial.

2. Best Music Selection App for Dance Studios: BarreNotes
Want an easy way to play music in the dance studio at the exact pace your students need to learn? Look no further than BarreNotes! BarreNotes is a user-friendly application that allows you to control songs, tempo, and volume from your phone for more efficient dance classes. Your dance teachers can easily play any track from your favorite music album, completely uninterrupted, without having to work with a difficult sound system or listen to ads. BarreNotes makes your dance music experience better so you can focus on what really matters—facilitating your students' learning!
Top Features
BarreNotes offers a number of comprehensive features to make incorporating music into your classes easier, including:
iTunes music library integration:

BarreNotes readily syncs with all the music in your iTunes library, so you don't have to repurchase music or make a copy of the existing track within the app. Plus, BarreNotes will track your favorite albums and keep them up front for easy access.
Volume and tempo adjustment:

Whether you need a slowed down version of a hip-hop song to nail the choreography or want to increase the volume of your ballet track to better hear each note change, BarreNotes makes it easy. The song's pitch will stay the exact same regardless of the tempo or volume change you select. Simply swipe to make adjustments.
Wireless mode:

Your dance teachers will likely be on the move throughout your studio, helping students correct their form or modeling the routine themselves in front of the class. With BarreNotes' wireless mode, you don't have to worry about the music cutting out if you accidentally touch your phone screen. The entire song will play with zero interruptions until you want it to stop.
Backed by a music selection application like BarreNotes, your dance studio teachers will be able to lead any dance routine with ease.
Pricing
This application is free on the App Store and can be configured to work on mobile devices, iPads, and Mac computers.

3. Best Choreography App for Dance Studios: DanceMaker
Learning new dance routines should be a fun, creative, and fulfilling experience for your students. Created by the Dance Education Laboratory, DanceMaker reenergizes choreography in a unique way, helping dance studios plan and run lessons through engaging movement experiments. Instead of coming up with a standard tap or jazz routine, DanceMaker encourages your students and teachers to think outside the box by using their word cloud database to create thematic "movement sentences." Combine any set of words (in any order) to inspire unique choreography!
Top Features
The DanceMaker application comes with several tools and features to make dance fun and enrich your dance teachers' choreography, including:
Theme generator:

Explore a growing database of action words, organized by topic and grade level, to guide your dances. Your dance teachers and students can also create their own words based on emotions, objects, places, or anything else that might inspire them!
Compiled suggestions from choreographers and teachers:

Searching for more inspiration? The DanceMaker app comes with suggestions from dance experts to kickstart your experimental dance lessons, whether that's ideas for what costumes to use or creating the perfect group dance.
Resources and journals:

Gain access to the Dance Education Laboratory's institutional resources and journals, sample materials, and dance education documentaries.
You can even encourage students to use DanceMaker at home and show off the innovative choreography they create once they return to class!
Pricing
The DanceMaker app is free on the App Store. For more information about this app and the Dance Education Laboratory, visit the Dance Education Laboratory website.

4. Best Dance Lesson Planning App for Dance Studios: Nearpod
Engaging your students can be difficult, especially if your dance studio has large class sizes and provides lessons to students of younger ages. To kick your student engagement up to the next gear, leverage Nearpod. Nearpod is a student engagement platform that makes the teaching process easier, giving you access to thousands of ready-to-go lessons. With its high degree of flexibility, you can adapt any Nearpod lesson to help you meet your students' specific learning objectives. For instance, you can encourage collaboration with game-based activities or generate quizzes that test your students' knowledge of ballet terminology.
Top Features
Nearpod makes coming up with exciting dance lesson plans as easy as possible with the following features:
Easy uploading and customizability:

Upload your own slides directly onto the Nearpod platform where students can easily see and access them. Then, add in interactive activities like VR field trips, whiteboards, polls, and more!
Lesson database:

Nearpod gives its users access to more than 7,000 lesson plans that cover a variety of topics. These lessons are made by trusted publishers, so you can use them for your next class or as inspiration when planning your dance lessons.
Asynchronous learning:

If your dance studio hosts virtual lessons or wants to encourage learning even when students aren't physically in the studio, Nearpod allows you to make any lesson student-paced. This way, students can complete lessons at any time, anywhere.
Nearpod was uniquely designed to work with a variety of classroom technologies, including iPads, iPhones, Macs, and Chromebooks. No matter what device your dance teachers or students use, Nearpod is an accessible and convenient tool to power learning!
Pricing
Your dance studio can download and use Nearpod for free with their Silver plan, allowing you to access all the basic features and accommodate up to 40 students per lesson. Or, expand the number of features and tools you can access with Nearpod's Gold, Platinum, or Premium Plus subscription models. Check out the Nearpod pricing page to learn more.

5. Best Project Management App for Dance Studios: Monday.com
From planning dance recitals to designing engaging classes, your dance studio has a lot on its plate. To streamline your project management and make sure every staff member is on the same page, work with Monday.com, a mobile-optimized work management platform with a full suite of features to make team collaboration more efficient and boost productivity. With its high degree of flexibility, you can customize any workflow to meet your dance studio's needs. Monday.com empowers your studio to track your task progress, assign responsibilities, set deadlines, and access more capabilities for improved efficiency.
Top Features
Monday.com helps businesses of all different shapes and sizes drive impact and improve team organization with the following tools:
Dashboards:

Create real-time dashboards that give your dance studio team a high-level view of your top priorities. Monday.com offers over 30 widgets to customize your dashboards to fit your exact needs, allowing you to create summaries of your latest fundraising efforts, generate reports that track your student retention, or display any other data that's valuable to your team.
Forms:

Use Monday.com's no-code form builder to quickly and easily generate forms for your dance studio. You can set deadlines, create the phrasing for your prompts, set the answer style (multiple choice, free response, etc.) and more.
Automated workflows:

Instead of manually assigning tasks or routing them to the next applicable team members, Monday.com takes care of the work for you! Set up automated workflows to naturally move along projects to the right point person, ensuring that none of your tasks fall through the cracks.
The Monday.com mobile app is entirely intuitive and user-friendly, allowing your dance studio team members to manage projects on the go with drag and drop, pinch to zoom, and simple scrolling.
Pricing
While Monday.com offers a free trial, this version has limited features and is advertised for individuals who want to keep track of their work. To access their team-specific tools and manage your studio's projects effectively, you can start with their Basic plan at $8 per team member every month. Monday.com also offers a Standard, Pro, and Enterprise plan depending on the different advanced features your team might need. For more information about their pricing and to determine which plan is right for you, check out their pricing page.

6. Best Financial Management App for Dance Studios: QuickBooks
QuickBooks is an accounting software designed to help businesses like dance studios manage their finances, including billing, payroll, and more. If your studio has a full team, manually handling your finances can quickly get overwhelming. Use the QuickBooks app to pay bills like studio rental costs on time, track your income, and even set up benefits for your employees like a 401(k) retirement plan. With comprehensive mobile-friendly features, you can access balance sheets, send reports, and invoice clients on the go!
Top Features
QuickBooks's intuitive software gives businesses like yours access to the following features:
Manage and pay bills:

Centralize bills in one place and pay multiple vendors all at once so you never have a late payment. Plus, you can choose how vendors get paid, such as selecting options like check or contact-free direct deposit.
Auto payroll:

Set up automatic direct deposit for your employees so your staff always get their paychecks on time. Before each paycheck is sent out, you can review and approve it and even add compensation changes like bonuses.
Cash flow planning:

Gain valuable insights into how much revenue is flowing into your business with Quickbooks's cash flow forecasts up to 90 days ahead. You can also view cash flow statements, balance sheets, and income statements on your dashboard to fully understand the financial state of your business.
QuickBooks also enables employees to clock in and out right from their phones, allowing you to easily track billable hours by employees or customers and automatically add these hours to invoices.
Pricing
QuickBooks offers businesses multiple plans based on the number of features and users you want to access your account. The Simple Start plan begins at $15/month and comes with all the basic features you need to power your business operations. However, for more advanced functionalities, consider upgrading to the Essentials, Plus, or Advanced plans, which go up to $100/month. Check out the QuickBooks pricing page to explore their different pricing plans and their associated features. Once you've picked out a plan and registered your business, simply log on to the free mobile app using your account credentials.

7. Best Campaign Marketing App for Dance Studios: HubSpot
HubSpot is a mobile-friendly customer relationship management (CRM) platform with a variety of built-in marketing features to promote your events, programs, and upcoming classes among your audience. This CRM is ideal for dance studios with room in their budget that are seeking advanced marketing capabilities. Rather than using separate communication tools and trying to align your data across multiple platforms, HubSpot centralizes all of your marketing tools in one place, from email marketing features to custom form builders for your website.
Top Features
With HubSpot's marketing software, called Marketing Hub, you gain access to a variety of tools and features guaranteed to help your dance studio grow, including:
Email personalization:

Use HubSpot to create highly personalized email campaigns that reference your audience members by their first name and contain relevant information that will inspire action. Schedule emails to be sent in advance and use automation tools to send off email communications based on certain triggers, such as when customers fill out your email newsletter sign-up form.
Campaign management tools:

HubSpot empowers businesses like your dance studio to build cohesive, custom campaigns and leverage different marketing assets, such as blog and social media posts, to work together to promote your messaging. Plus, it offers a centralized dashboard to get a birds-eye view of your campaigns to help you determine your priorities.
Performance analytics:

As you run your marketing campaigns, HubSpot provides real-time analytics so you can better understand your performance and hone your strategies as needed. Track key success metrics, like page views for your blog posts, and use these insights to measure your progress toward meeting your goals.
HubSpot also syncs with Salesforce to host all of your customer data and track their behavior as they interact with your different marketing campaigns. This way, you can tailor your communications to individual prospects based on their interests and bring in more customers.
Pricing
HubSpot offers several different pricing plans depending on the size of your dance studio team and the number of contacts you'll need to host. You can get started with their free plan, which is recommended for individuals and small teams who are interested in generating and emailing new leads. Or, if you're looking for more advanced marketing software created for businesses, HubSpot offers a Professional and Enterprise plan, which both accommodate thousands of contacts. Visit their pricing page to learn more about HubSpot's pricing options.

8. Best Human Resources App for Dance Studios: BambooHR
Your dance studio relies on its administrators, dance teachers, and employees to provide an exemplary experience to customers. With everything that your employees do for you, it's important that you work with an HR tool to create a great working environment. BambooHR is an HR management software that allows you to manage and improve the employee experience at your dance studio. From streamlining the hiring process to empowering your team members to map out their career progression and goals, BambooHR makes it easy to organize your employee data and performance all in one place.
Top Features
BambooHR offers a variety of mobile tools to implement HR best practices into your business, including:
PTO management:

Employees can track their current PTO balance, schedule time off, and see how much vacation time they will have accrued by a future date. Once a PTO request goes through, your managers or leadership team will receive instant notifications via email, mobile, and their BambooHR inbox.
Applicant tracking:

BambooHR recruiting software allows you to keep track of each applicants' information at every step of the hiring process, ensuring you'll be able to find the right candidates and create a positive hiring experience.
Reporting and analytics:

Track important metrics like employee turnover, length of service per employee, retention rates, and other valuable HR measurements to gain a better understanding of your employee experience and how you can make strategic decisions to improve it.
With the mobile BambooHR app, you'll always have a way to communicate with your team members wherever you might be. Simply leverage the built-in company directory to reach your co-workers quickly.
Pricing
BambooHR offers an Essentials plan that covers all the basic features as well as an Advantage plan that earns you access to bonus features like employee well-being surveys, training tracking, and onboarding tools. To get the pricing points for these different plans, reach out to BambooHR for a free price quote.

9. Best Social Media Management App for Dance Studios: Hootsuite
Hootsuite is a social media management platform that allows dance studios to easily maintain their presence across Facebook, Instagram, and other platforms. Whether your dance team is on the go at a competition or you simply want to remotely work on growing your social media presence, leverage this mobile app to upload and edit content, foster follower engagement, and manage your social content calendar. Hootsuite also makes it easy to stay on top of trends so you can attract as much attention to your social media profiles as possible!
Top Features
The creators behind Hootsuite understand the importance of a strong social media presence in growing and nurturing relationships with your audience. To help build your online visibility, use the following Hootsuite tools:
Content schedule:

Schedule your posts across multiple platforms with custom dates and times with a single tap. Plus, you can filter and review your scheduled posts by social network or post status to make any adjustments.
Social media streams:

Monitor incoming questions and comments from your followers and respond to them with ease all within the Hootsuite platform. Use the Inbox feature to assign inbound messages to the right staff member, ensuring that all messages are seen, read, and provided a response.
Integrations:

Hootsuite syncs with multiple social networks, including Instagram, Facebook, TikTok, Twitter, and YouTube so you won't miss a beat when it comes to regularly publishing content across your platforms.
Need inspiration for your captions? Hootsuite has a built-in AI tool to come up with captions and post ideas for every social media network. Armed with Hootsuite's app, you'll be in great shape to drive amazing social media results.
Pricing
The Hootsuite app is available with any pricing plan you select, which includes the Professional plan at $99/month, Team plan at $249/month, and Business plan at $739/month. If you're looking for an advanced software solution custom to your dance studio, reach out to the Hootsuite team to learn about their Enterprise option. For more information about their pricing options, visit the Hootsuite pricing page.

10. Best Waiver App for Dance Studios: Smartwaiver
Smartwaiver is an online waiver solution that makes it easy to create, share, and manage your signed waivers at your dance studio. This waiver solution is ideal for dance studios that plan to distribute and store several hundreds to thousands of waivers and need an advanced solution.
You can set up custom forms, like a dance liability waiver to protect your studio from any injuries that occur, in just a few moments. Then, with the Smartwaiver Kiosk app, you can turn your tablet into a dedicated waiver signing station where dance families can easily sign off with their finger. You'll be able to store signed documents and data securely, enabling you to pull up this information at any time.
Top Features
Smartwaiver improves the waiver management experience with these key tools:
Customization:

Customize your digital smartwaiver with options like signatures and initial boxes, auto photo capture (to take images of the user signing the form), parent/guardian relationships, and more.
Waiver console:

Conveniently retrieve a previously signed waiver by searching by last name, birthday, or custom tags that you assigned to the waiver (e.g., a specific event name).
Integrations:

Smartwaiver has a variety of integrations to help centralize your data. For example, using Smartwaiver's integration with MailChimp, you can transfer email addresses captured on your waivers and leverage it during marketing campaigns.
Wherever you go, you can easily set up the mobile kiosk and gather the signatures you need to power your studio!
Pricing
Smartwaiver has different pricing plans depending on the number of signed waivers you'll need to create and store each month. Their plans span from the Basic plan which allows up to 100 signed waivers per month at $19/month all the way up to the Enterprise plan which allows up to 5,000+ signed waivers per month (reach out to the Smartwaiver team for the Enterprise plan price quote). All plans include the free Kiosk app so you can sign waivers on the go. Check out the Smartwaiver pricing page for more details.

Wrapping Up
If you're ready to take your dance studio to the next level, you'll need to work with the best apps on the market. Leverage these apps for dance studios to streamline your operations, reduce your team's workload, and connect with your dance families like never before. If you're eager to learn more about how you can optimize your dance studio for greater success, explore these additional resources below: